As a kid, I had a very – shall we say – particular method for eating Poptarts. I've never been a picky eater, but I just have some strange requirements for consuming certain foods, Poptarts included.
Here were my three mandatory requirements for eating Poptarts when I was a child:
01. I would only eat them un-iced. For some reason, that frosting squicked me out.
02. They absolutely had to be toasted. No raw Poptarts for me; that would make for a desert in my mouth. No me gusta.
03. And my final criterion for Poptarts was that they had to be slathered with a smear of melted real butter [no margarine, eww].
Looking back at my requirements for eating Poptarts makes me laugh now. I haven't had a Poptart in years. And now, I'm not even sure I'd want to buy a box of them. If my kid self wasn't too keen on them, I think it's safe to say that my adult "foodie" self wouldn't be a fan.
Homemade Poptarts, though? Count me in!
My roommate and I decided that these homemade Poptarts were going to be our second Roommate Baking Endeavor [it's a thing now, you know – see our Great Fried Doughnut Experiment post]. And man, was it an experiment. I made the title of this post "[sorta great]," because well, to be honest, these poptarts have a bit of a learning curve. Dani and I made strawberry and brown sugar cinnamon poptarts for our first attempt, and I will share the results plus the recipe with you further on down in this post.
These poptarts are not like the thicker, jam-filled "pop tartlettes" you can often find in bakeries. Of course, those are delicious in their own right [I love getting them from Whisk Bakery, here in STL when I have the chance!]. But the purpose of these homemade poptarts is to essentially mimic the "real" thing.
That plain, thin, flaky crust, with just a thin spread of fruit filling: that's what these dudes are all about. While they're not exactly what I'd call healthy [although there is fruit in the strawberry ones, so that has to count for something, right?], they were fun to make. As aforementioned, they definitely have a bit of a learning curve, even to seasoned bakers such as Dani and myself. We struggled with the dough, and we had some trouble with the strawberry filling being too dry, and not "paste-like."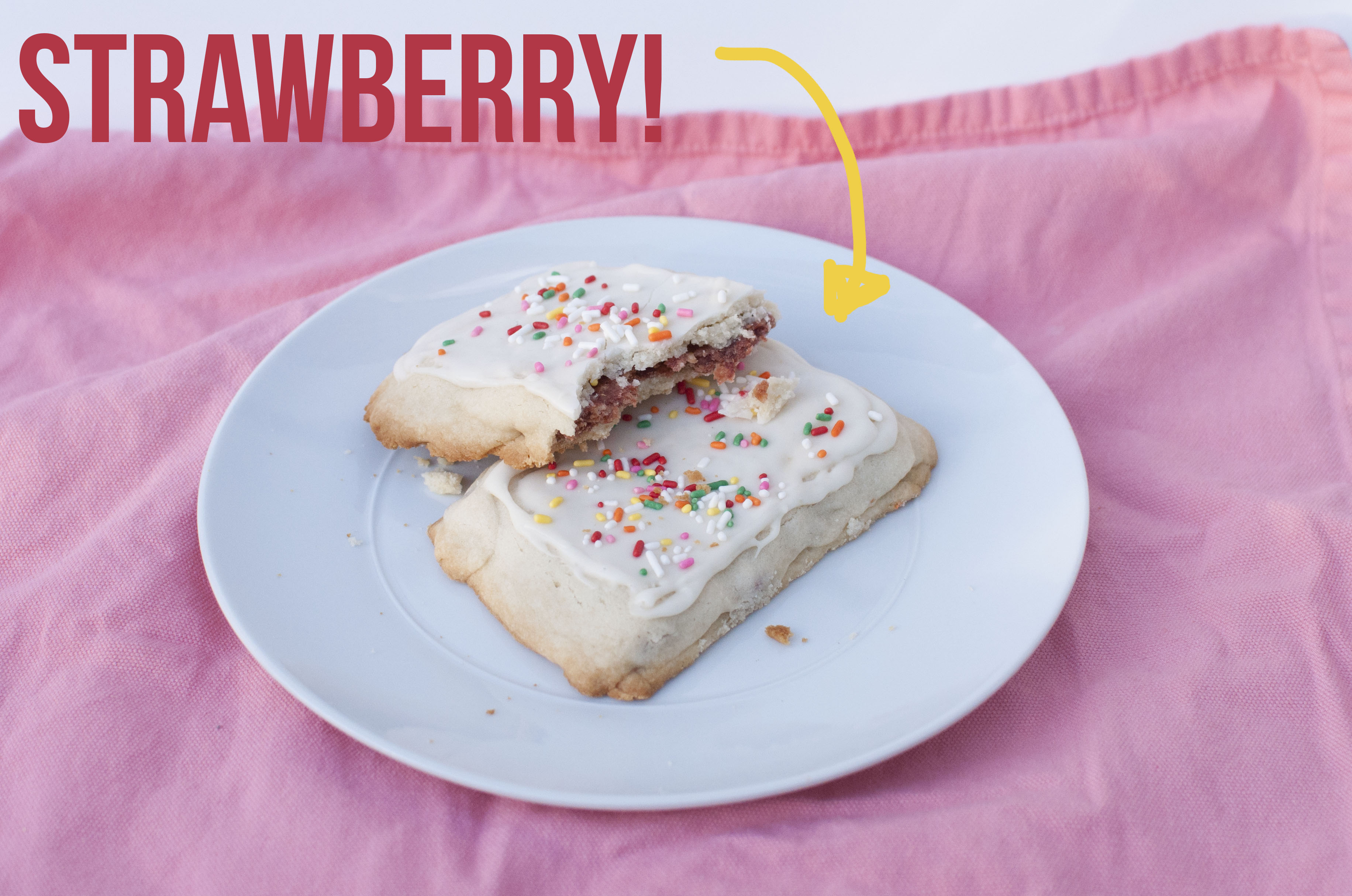 Despite our struggles, the end results were tasty, and I have to say that they're much better than Kellogg's poptarts. I know that's a pretty bold statement, but our goal here was to conquer another baking experiment, and we did succeed with that. I'm not sure if I'd ever make them again, but it was pretty fun. Oh yeah, plus it's excellent fun to tell people that you made homemade poptarts, and their reaction is an amusing combination of intrigue/confusion. 😀 Yes, kids. It CAN be done. And the best part is that these poptarts can easily be veganized and/or made gluten-free! Yay! Homemade poptarts for errybody!
//   //   //   //   //   //   //   //   //   //   //   //   //   //   //   //   //   //   //   //   //   //   //   //   //   //   //    //   //   
Homemade Poptarts // Strawberry + Brown Sugar Cinnamon
Ingredients:

For the dough:
10 oz. all-purpose flour
1 tsp. salt
8 oz. cold, unsalted butter, cubed (use shortening for vegan)
6 oz. corn syrup
For the icing:
12 oz. powdered sugar
2 egg whites (use corn syrup for vegan)
1/2 tsp. salt
2 tsp. vanilla extract
(add cinnamon to the frosting for the brown sugar cinnamon poptarts, if desired)
For the strawberry filling:
2 oz. of freeze-dried strawberries
4 oz. dried pear
4 oz. dried apple (we could only find dried apples, so we used 8 oz. of apples and omitted the pears… you can find these dried fruits at Trader Joe's)
1 oz. corn syrup
For the brown sugar cinnamon filling:
3 oz. fresh bread crumbs (GF bread crumbs work perfectly too)
1 oz. unsalted butter, melted (use shortening (or probably Earth Balance) for vegan)
4 oz. brown sugar
4 tsp. cinnamon
2 1/2 oz. corn syrup
1 tbsp. vanilla extract
1/2 tsp. salt
**NOTE: The dough recipe above makes approximately twelve 3 1/8″ x 4″ poptarts, at 1/4″ thickness. Each filling recipe will fill those twelve poptarts. So we made two batches of the tart dough, two batches of icing, one batch of strawberry filling, and one batch of brown sugar cinnamon filling.
Instructions:

For the dough:
1. Carefully measure all the ingredients and pulverize in a food processor until a dough ball begins to form.
2. Remove the dough from the food processor, and pat together into a disk of dough. Wrap with plastic wrap, and allow to be chilled in the refrigerator for at least 30 minutes.
For the strawberry filling:
1. Pulverize all the ingredients in your food processor (hopefully you cleaned it out after making the dough…) until a paste forms.
2. Roll out the fruit filling on a cutting board, and cut into rectangles that are slightly smaller than 3×4″ (so they'll be a bit smaller than your dough rectangles). Set aside until ready to assemble the poptarts.
For the brown sugar cinnamon filling:
1. Pulverize all the ingredients in a clean food processor until you get a paste (it will be softer and more liquid-like than the fruit paste; this is normal). Set aside until ready to assemble poptarts.
Assembling the poptarts:
1. Preheat your oven to 350 degrees F. Roll out chilled dough on a heavily floured surface until it's 1/4″ thick. Cut into 3 1/8″ x 4″ rectangles.
2. Place dough rectangles on a cookie sheet lined with parchment paper or a silicone baking mat. For the strawberry poptarts, place a fruit rectangle on top of one piece of dough, then top that with another piece of dough.
3. Press the edges together, but don't crimp them. The dough will naturally kind of seal itself together.
4. For the brown sugar cinnamon poptarts, place a tablespoon of the filling on top of the dough rectangles. Spread it out a bit, then top that with another rectangle of dough. Again, press the edges together, but don't worry about going too crazy; it'll seal itself like magic.
5. Bake the poptarts for about 20 minutes. Normally, I love golden brown everything, but the point of these poptarts is to mimic the real thing. So basically, they need to look borderline anemic. Allow to cool.
For the icing:
1. In a small bowl, mix together all of the ingredients until a thin icing is formed. Pipe the frosting around the edges of the cooled poptarts. You can pipe with a plastic Ziplock bag with the corner clipped off, or use a small piping bag and tip.
2. After piping around the edges, add some water to the frosting in the bowl and stir until it's a thinner consistency. Pipe that thinner icing inside of the rectangle of icing you just piped. Spread until it evenly covers the top of the poptart.
3. Note: This frosting is pretty much just like royal icing, so if you know how it works, then you'll be golden.
*BONUS* Notes + Tips from Dani and Darcie's Test Kitchen:
– Make sure that the dough is chilled properly. This is non-negotiable. I like shortcuts as much as the next person, and I will admit that I find dough-chilling to be somewhat of a nuisance. But you can't mess around with this dough. It needs to be chilled for at least 30 minutes, as the recipe says. You must also work with it while it's still chilled. This dough is a bit difficult to work with, so don't mess around with it, or you're gonna have a bad time.
– Use a bunch of flour or powdered sugar when rolling out the dough. This is also non-negotiable. As I said, the dough is kind of sticky and can be difficult to work with. Rolling it out with either powdered sugar or flour will make your life so much easier.
– Don't overstuff the dough with the filling. It'll make them spread and then your poptarts will be deformed and weird-looking (kind of like ours, but hey, can't always be perfect).
– For us, the strawberry filling was a bit drier than we anticipated. Freeze-dried strawberries have absolutely no moisture. Dried apples have some moisture, but we found that it was difficult to get that proper "paste" for the fruit filling. We tried adding water and more corn syrup, which helped a bit.
– Using a food processor for this made life easier. You could certainly mash/mix everything by hand, with an electric mixer, or with a stand mixer. But honestly? Pulverizing everything in the food processor was much easier. Minus cleaning up the sticky fruit paste, that is. 
– A food scale is very useful for this project. Here's an embarrassing baker's confession for ya: despite the fact that I own a food scale, I have never used one for baking. I have always relied on measuring cups, and for some silly reason, the numbers intimidated me. However, the recipe's source suggests just weighing everything by ounces, and she was right: it is a lot easier and perhaps a bit more foolproof. I'd recommend trying it out if you can.
– Poptarts really are better when eaten on the second day. Brave Tart was right again: they are better on the second day! Who knew.
– Dough and icing recipe can be found here, from Brave Tart.
– Filling recipes also from Brave Tart.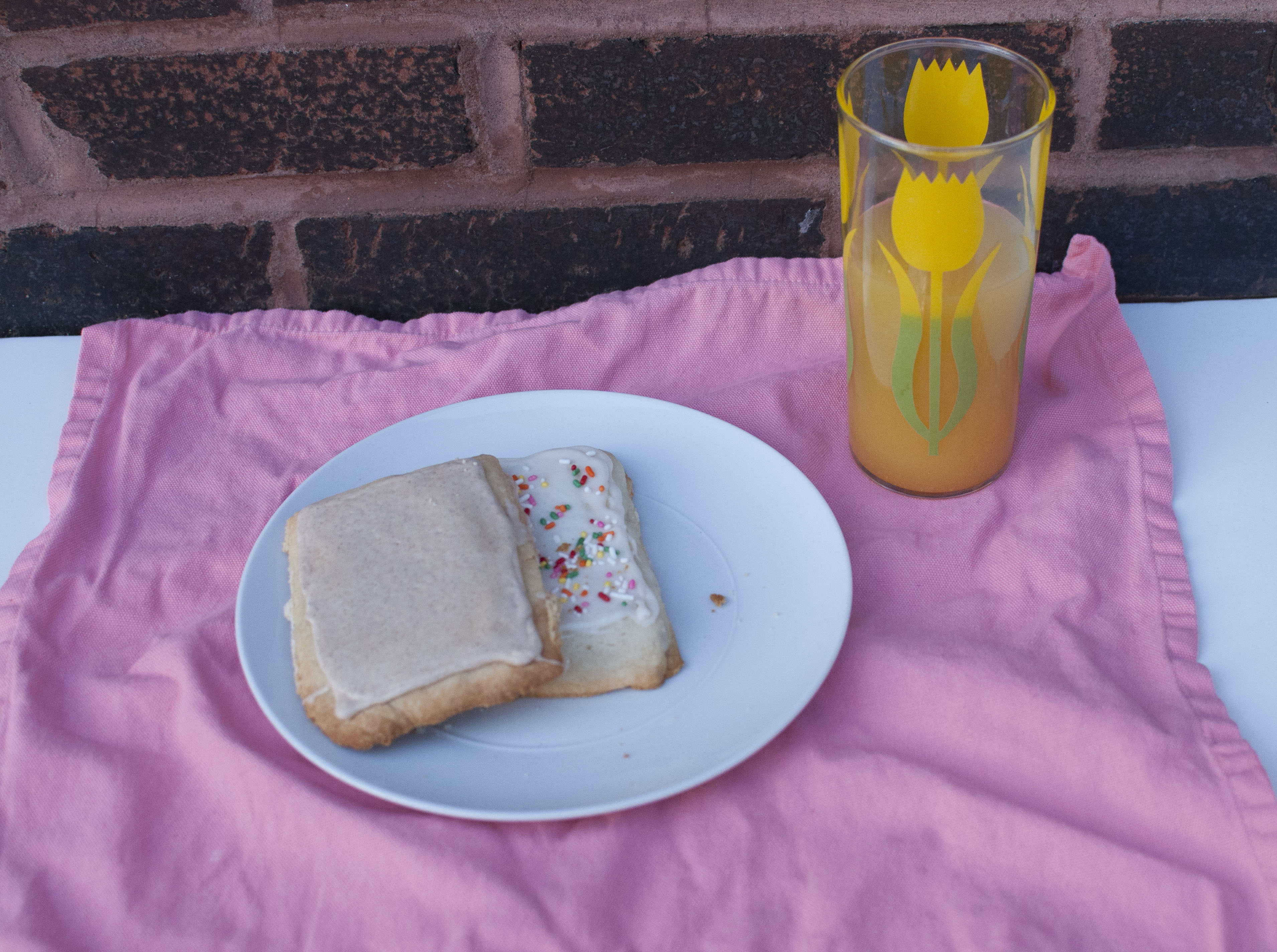 I drank pineapple-banana-orange juice with mine, but I guess you could drink milk with yours. I'm just one of those weird people who hates cow's milk.
PS: Thanks for getting this far and reading this novel of a post! You go, Glen Coco.