One of my favorite guilty pleasure* hobbies OF ALL TIME includes listening to copious amounts of rap and hip-hop. Usually I can be found listening to lots of modern songs, but I am gonna go ahead and throw it out there: I have a "2000s Hip-Hop" station on my Pandora account, and it's one of my favorite playlists to throw on when I wanna get pumped up.
*I actually have zero shame, tbh.
I mean, let's be honest: who doesn't like "Laffy Taffy," "Salt Shaker," "U and Dat," and other songs?! They're just classics for those of us that grew up in the early 2000s.
On the topic of 2000s Hip-Hop, do you remember the song "Independent" by a dude named Webbie? The lyrics are below:
"I-N-D-E-P-E-N-D-E-N-T.
Do you know what that means, man?
She got her own house, she got her own car.
Two jobs; work hard.
YOUSA BAD BROAD!"
Secretly, I've always liked to think that song was meant for me. I've always been a bit independent to a fault. I have two jobs right now, and I have my own car, and I pay my own rent. I like to think that makes me a "bad broad." 😛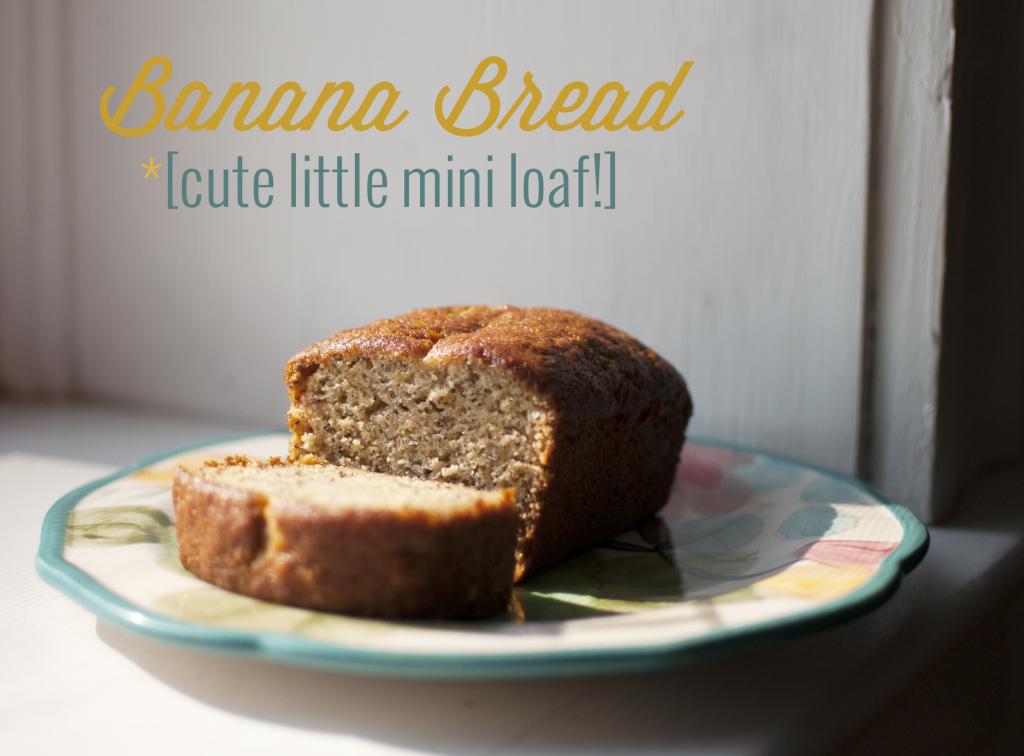 If you've made it this far in this post, you're probably wondering what in the heck hip-hop music has to do with a food blog or better yet with banana bread. Well, this isn't just any ol' nanner bread recipe. This recipe is for one single miniature loaf of banana bread. It's an adorable, delicious little loaf, perfect for a badass, independent chick (or dude) such as yourself. You could technically share it with your significant other, if you have one and felt so inclined. But it's also a nice amount for one person.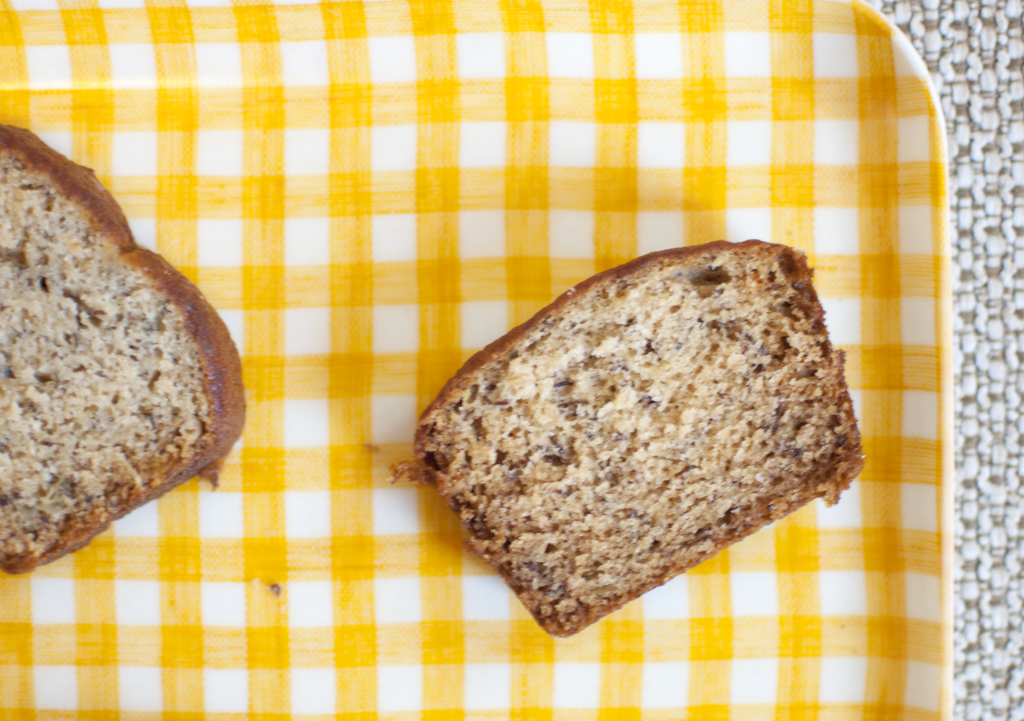 Well, I'm not gonna lie. I ate the entire loaf in what was probably more than a 24 hour period but less than a 48 hour period of time. It's juuust the right amount of banana bread to satisfy a craving, plus use up that single overripe nanner that's sitting on your counter, daring you to use it for something (but of course, one banana is never enough for a regular-sized loaf of bread).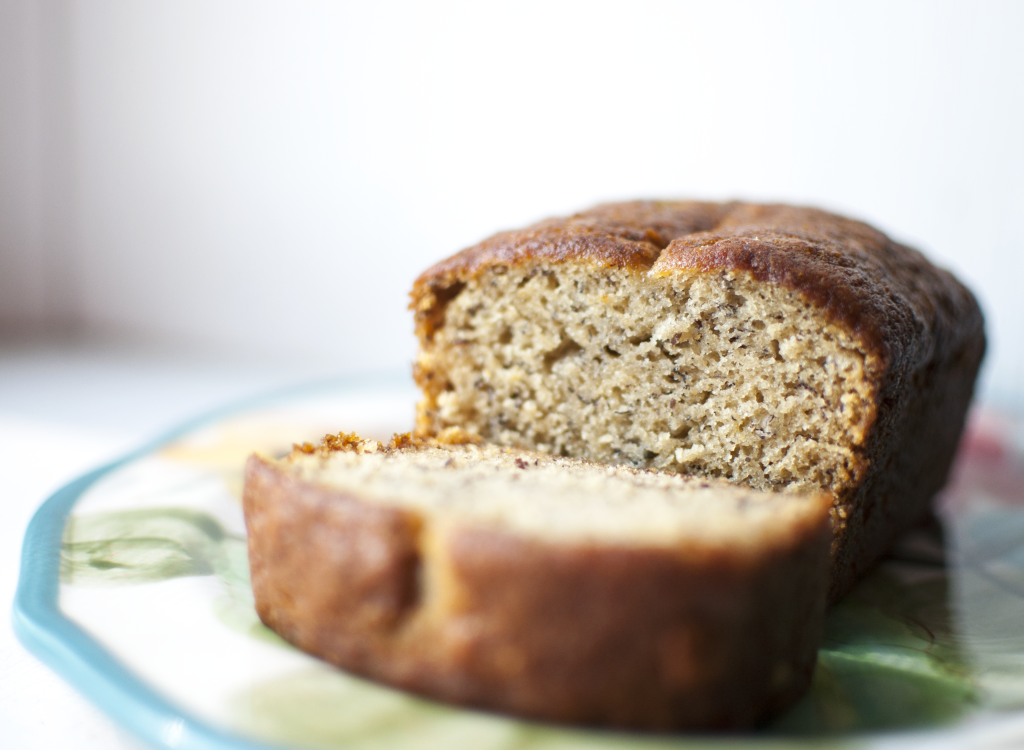 Alright, now that rambling is over, go make a miniature loaf of nanner bread and listen to some good ol' 2000s hip-hop songs while you're at it. It's a great way to use up a banana and feel like a total badass. Winning. 😎
// // // // // // // // // // // // // // // // // // // // // // // // // // // // // // // // // // // // // // // //
Single Lady Banana Bread.
Yield: One small loaf (a miniature loaf pan's dimensions are usually about 5 ¾" x 3" x 2"). Ingredients:
– 1 small (6-7") over-ripe banana
– 3 TBSP. unsalted butter, at room temperature (plus extra for pan)
– 3 TBSP. granulated sugar
– 2 TBSP. honey
– 1 large egg yolk
– ½ cup all-purpose flour
– 1 TBSP. flax seed meal [Christina uses wheat germ, but I don't ever keep any on hand. I always have flax seed meal, though. Personally,  I think a tablespoon or two of flax seed meal adds a nice, nutty flavor, with the added benefit of some extra nutrition!]
– ¼ + ⅛ tsp. baking soda
– Pinch of salt
Instructions:
1. Preheat your oven to 350 degrees F. Grease a 5 ¾" x 3" x 2" mini loaf pan with butter or cooking spray (and a little parchment paper!). Set aside.
2. In a medium bowl, mash the banana into a puree using a fork or potato masher, if you have one. Next, add the butter, sugar, and honey to it and stir well.
3. Stir in the egg yolk well. Finally, sprinkle in the dry ingredients: flour, flax seed meal or wheat germ, baking soda, and salt.
4. Bake for 35-40 minutes, or until a toothpick inserted comes out clean. Let cool in the pan slightly before moving it to a wire rack. Enjoy!