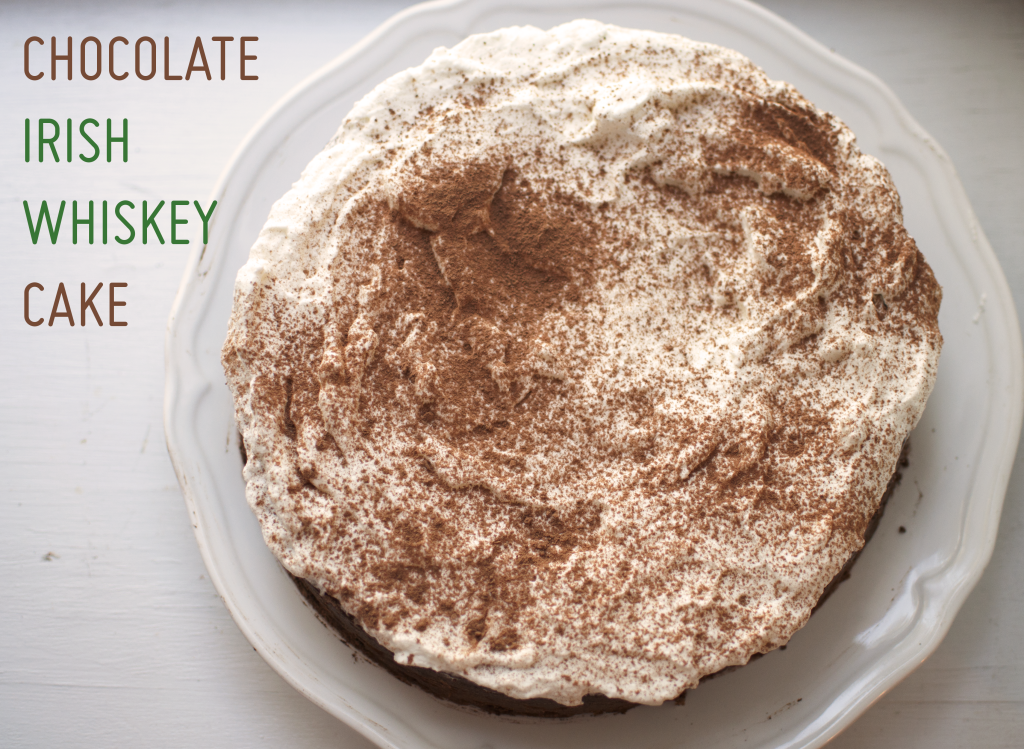 Chocolate Irish whiskey cake. Oh yes. This cake combines two of my favorite things: chocolate and booze. Okay, I'm actually not that into the booze. I mean, I enjoy a nice adult beverage (or three) on occasion. But there's just something about baking with booze. Booze-infused baked goods are just extra special because the alcohol adds an extra layer of richness and deepness to desserts. Trust me when I say this; you're not gonna get drunk off this cake. Sorry to [maybe?] disappoint? 😉
I made this cake for a work potluck awhile back. We had a "Taste of IT" day – in which my team of IT people brought in desserts from different countries. Immediately I knew I had to represent Ireland [my heritage is mostly Scot-Irish], but then it was a matter of trying to think of what to make. I briefly contemplated Irish scones, but obviously this chocolate cake won out. I'm a huge scone fan, but I mean… let's be honest. Scones or boozy chocolate cake? Boozy. Chocolate. Cake. Enough said.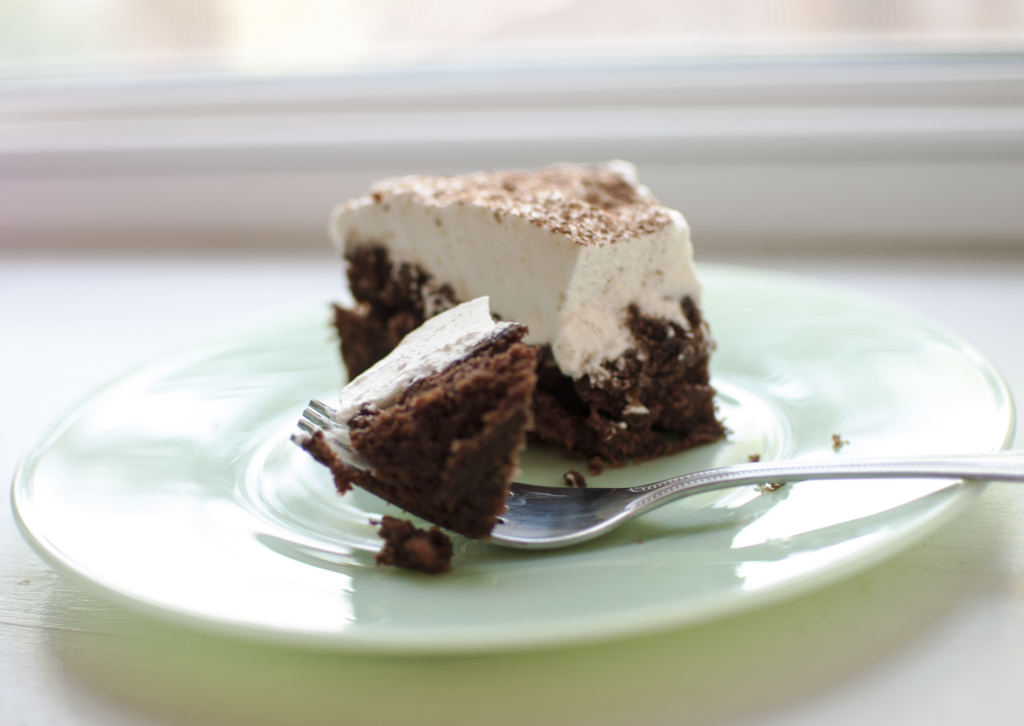 This cake is chocolatey and the Jameson and coffee make it extra rich. I topped it with homemade whipped cream, and then sprinkled it with some cocoa powder, and that was a most wise decision. Perhaps the best part about this cake is that it's not overly sweet. I think that most European desserts tend to have less sugar than American desserts – which is probably for the best. Regardless, this was a fun cake to make, and I prefer to eat it cold. I made the cake with Kerrygold Irish butter, but you can use regular, unsalted butter if you like. The thing about European butter is that it has a much higher fat content, making it much more rich and tasty than your typical butter in the American grocery stores. That being said, if you can find Kerrygold, use it. It's pretty awesome butter, if I do say so myself.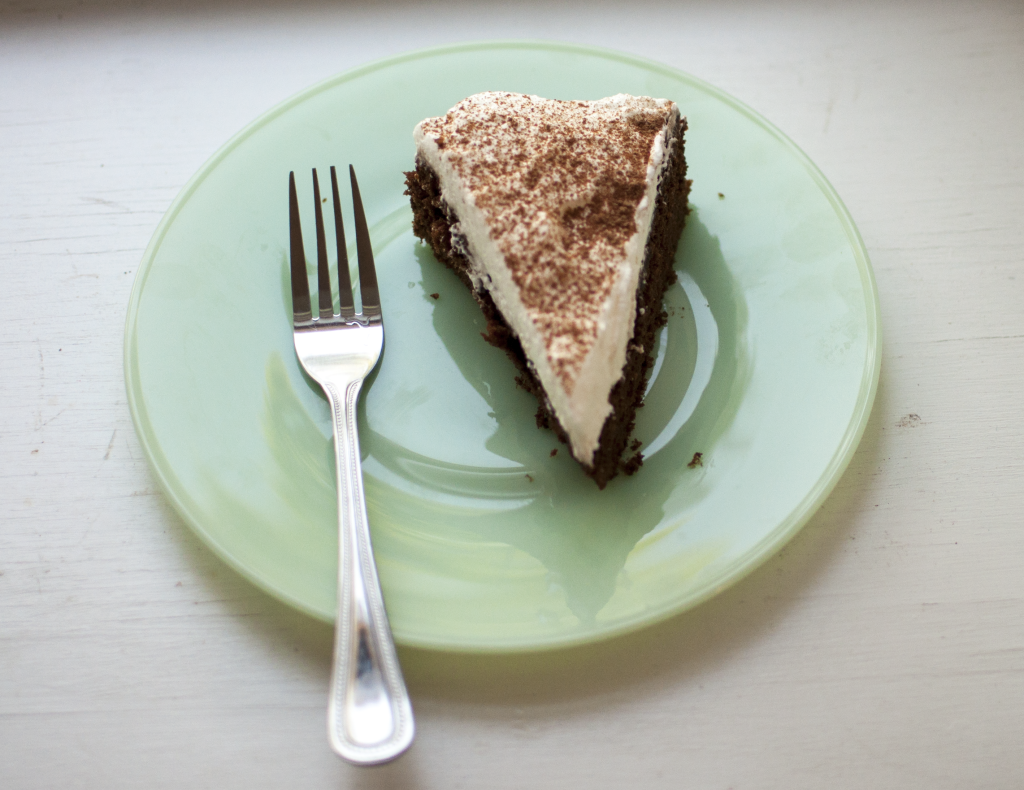 // // // // // // // // // // // // // // // // // // // // // // // // // // // // // // // // // // // // // // // // // // // //
Chocolate Irish Whiskey Cake.
Yield: One 8×8″ (or 9×9″) round cake.
Ingredients:
– 2 oz. semi-sweet chocolate, chopped into small pieces
– 6 TBSP. Kerrygold unsalted, at room temperature
– 1 cup granulated sugar
– 1 cup all-purpose flour
– 1/4 cup Dutch-processed cocoa powder [I used regular because it's all I had on hand. This is okay, but Dutch-processed will make the cake more rich and dark.]
– 1 tsp. baking powder
– 1/2 tsp. baking soda
– 1/8 tsp. kosher salt
– 3 large eggs
– 1/4 cup fresh brewed espresso or strong coffee
– 1/4 cup Irish whiskey, such as Jameson
– Optional: Powdered sugar, for dusting
– Optional: Homemade whipped cream, for topping
– Optional: Extra cocoa powder, for dusting
Instructions:
1. Preheat your oven to 325 degrees F, and ensure that the oven rack is in the middle. Grease an 8 or 9-inch baking pan with butter or spray, and coat the pan with flour. Be sure to remove any excess flour.
2. Place the chopped chocolate into the bowl of a double boiler, and allow it to melt over fairly low heat. Once melted, remove from the heat to cool.
3. In the bowl of a stand mixer fitted with the paddle attachment, cream the butter and sugar on medium speed until it becomes pale yellow, thick, and fluffy. Scrape down the sides of the bowl halfway through. This will take about four minutes.
4. While the butter and sugar are mixing, sift the dry ingredients [flour, cocoa powder, baking powder, baking soda, and salt] into a medium bowl.
5. Reduce the mixer speed to low and add the eggs, one at a time, until they are well incorporated. Slowly add the melted chocolate and mix until combined.
6. While the mixer is still at a lower speed, carefully add the dry ingredients, and mix until combined. Next, add the espresso/coffee and the whiskey.
7. Remove the bowl from the stand mixer, and scrape down the entire outside and bottom of the bowl with a silicone spatula. Ensure that all the ingredients are incorporated.
8. Pour the batter into the prepared pan, and bake until a toothpick inserted in the middle comes out clean, about 45 minutes (I think my oven only took about 35-40 minutes, but baking times may vary).
9. Remove the cake from the oven, and let it cool for 5 minutes. Invert onto a cooling rack and allow it to cool completely before ready to serve.
10. To serve: Dust the top with powdered sugar, or top with homemade whipped cream and cocoa powder. Enjoy!
+ Recipe from Kerrygold USA.