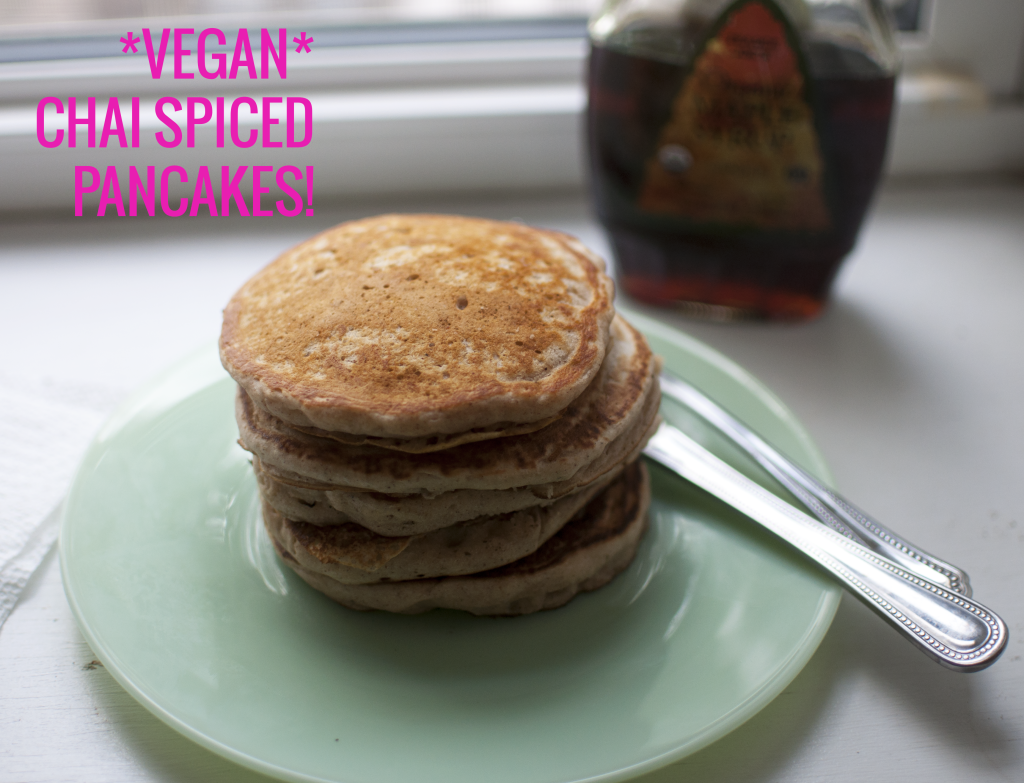 I don't think it ever occurred to me that you can make vegan pancakes until I bought the book Pancakes, written by the same cool lady who writes at A Cozy Kitchen. That sounds silly now that I really think about it. In my mind, however, pancakes have always meant that there's gonna be lots of butter, eggs, and milk (or better yet, buttermilk!).
I was pleasantly surprised to discover that tasty, fluffy pancakes don't necessarily have to contain any animal products. I'm far from being a vegan – I don't have anything against the lifestyle; I just recognize that it's not for me. Still, I go through phases [Is it just me? Surely not…] in which I am: a) out of milk/eggs and too broke/lazy to go buy some; and/or b) eating mostly vegetable-based foods, because it just feels better at times; and/or c) in the mood to experiment with less common ingredients. For those phases, these vegan pancakes are perfect.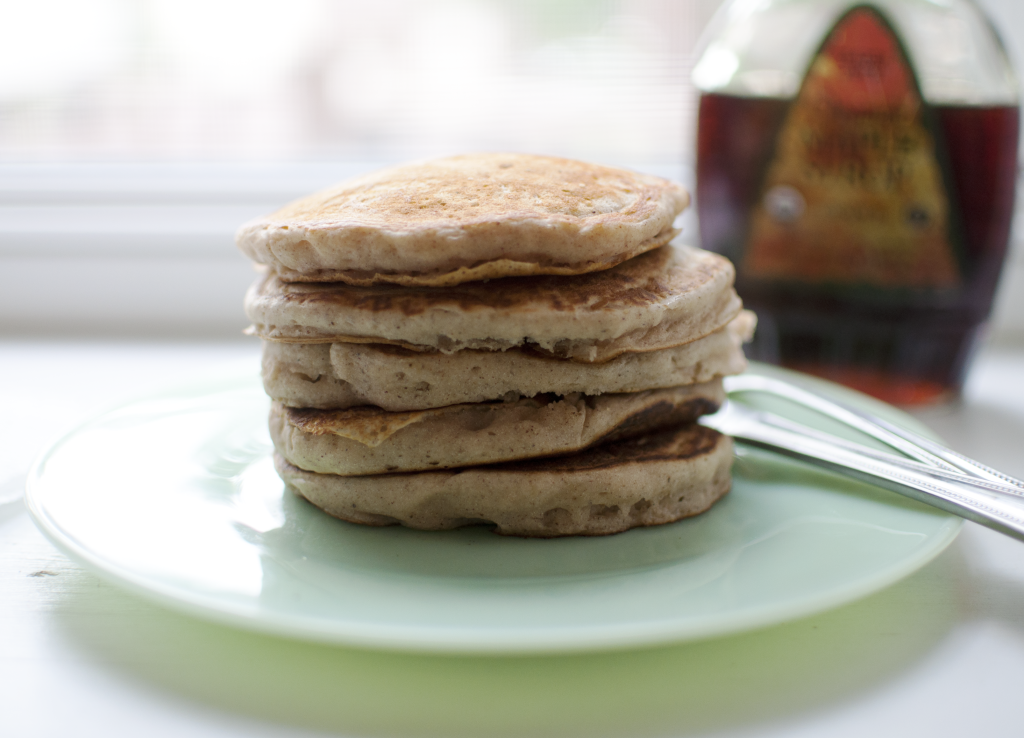 This vegan pancake recipe is extremely simple and easy. It comes from the book titled Pancakes: 72 Sweet and Savory Recipes for the Perfect Stack, aka the Pancake Bible. I like to make these pancakes just as they are when one of my three-part life phases hit me. But sometimes when I'm feeling extra rowdy, I'll add some chai spices to the pancake batter to, well, spice things up a bit.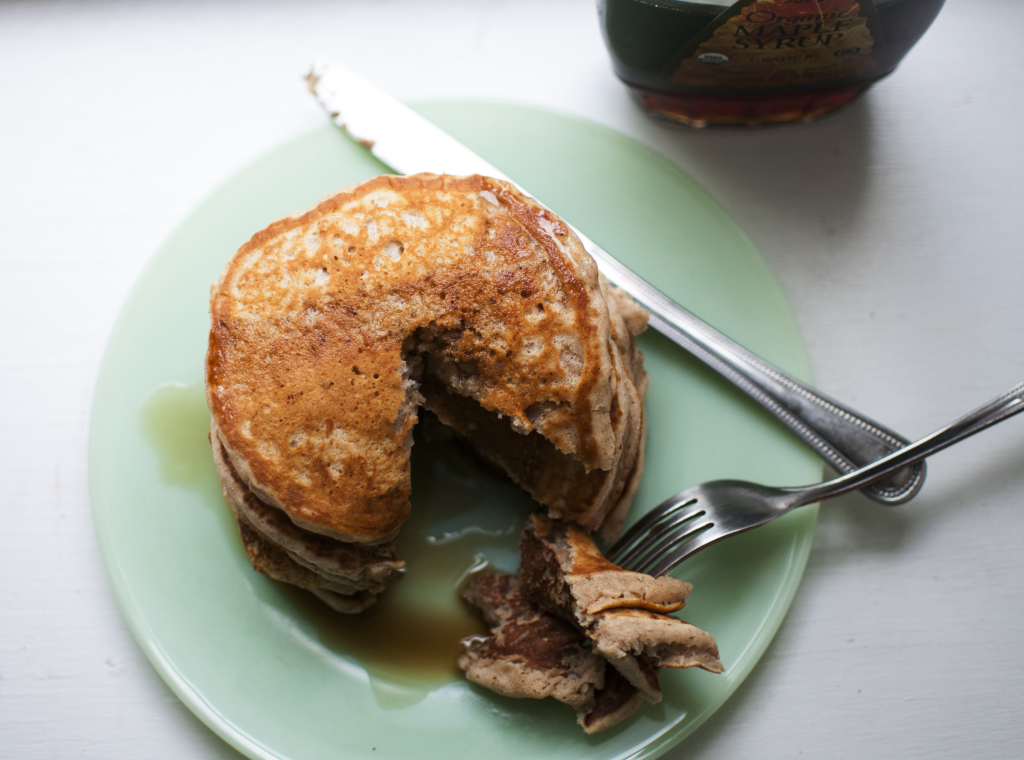 Sometimes a girl just needs a stack of six pancakes for dinner. Sometimes chai spices add a lovely aroma and slight kick to some simple pancakes. That's just real life, and real life is pretty decent when there are pancakes and jadeite plates around. 🙂
// // // // // // // // // // // // // // // // // // // // // // // // // // // // // // // //
Vegan Chai-Spiced Pancakes.
Yield: Makes six pancakes.
Ingredients:
– 1 cup all-purpose flour
– 1 TBSP. baking powder
– 1/4 tsp. salt
– 1/4 tsp. ground ginger
– 1/4 tsp. cinnamon
– 1/4 tsp. cardamom
– 1/4 tsp. ground cloves
– Pinch of black pepper
– 1 cup almond milk [or other non-dairy milk]
– 1 TBSP. agave nectar [or real maple syrup, if you don't have agave nectar]
– 1 tsp. pure vanilla extract
– About 1 tsp. of vegetable oil or vegan butter for the skillet
Instructions:
1. Whisk together all of the dry ingredients in a medium bowl until combined. Set aside.
2. Measure out the milk in a liquid measuring cup, then add the agave nectar and vanilla extract, stirring until combined.
3. Add all of the wet ingredients to the dry ingredients at once, then mix until just combined. The batter will probably be slightly lumpy; this is okay! Pancake batter is supposed to be lumpy, so don't beat the heck out of it.
4. Preheat your skillet over medium heat, and brush with the vegetable oil so that the pan is well-greased.
5. Measure about 1/4 cup of batter and scoop into the heated skillet. Cook for about three to four minutes, or until small bubbles form on the surface of the pancakes.
6. Flip the pancakes, and reduce the heat to medium-low. Cook the on the opposite sides for approximately one to two minutes, or until the pancakes are golden brown.
7. Transfer the cooked pancakes to a cookie sheet and place in a preheated 200 degrees F oven to keep warm. Repeat the cooking process with the rest of the batter until pancakes are done. Serve immediately with real maple syrup, and enjoy!
– Recipe barely adapted, via Pancakes: 72 Sweet and Savory Recipes for the Perfect Stack.