This is not the post for you if you hate and/or are weirded out by artificial coloring and/or sprinkles.
This is most definitely the post for you if you: a) love colorful things, and b) you aren't afraid of ingesting the occasional fake food coloring/chemicals/whatever evil stuff they're warning us about now.*
*[Obviously, moderation is key. You won't see me gulping down buckets of food coloring… That's just nasty. *Cleveland voice* But I don't think that some artificial colors in my system on occasion is gonna hurt my body any more than life already does. It'll be aight. Also, #YOLO.]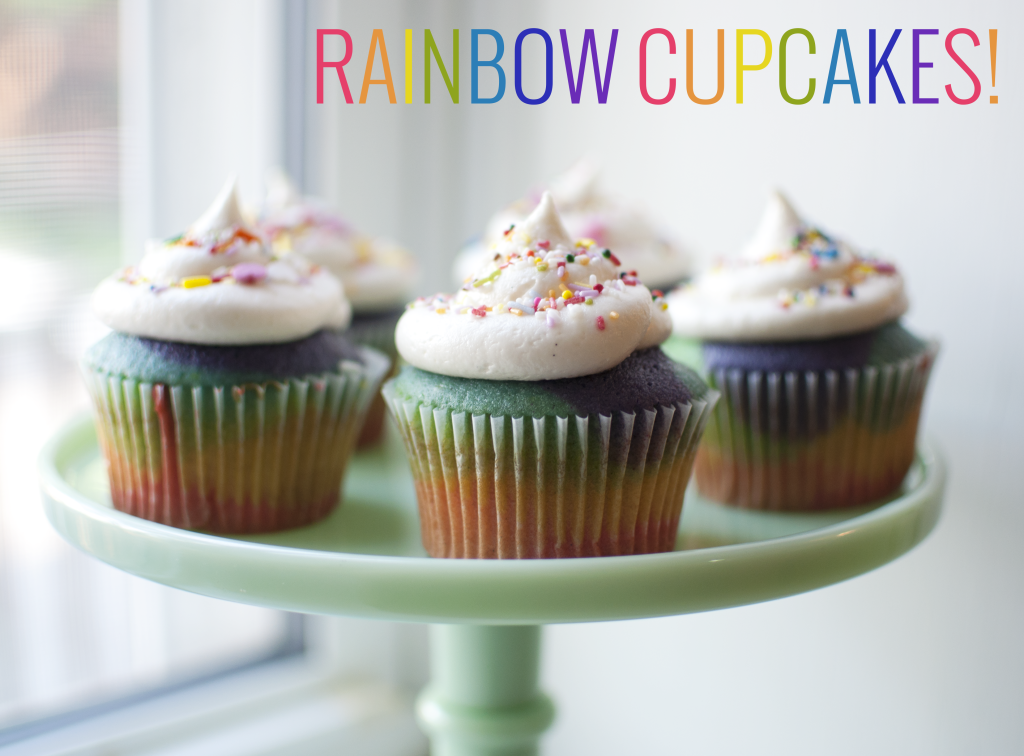 That's right. Today I'm talking about rainbow cupcakes! Just look at how pretty they are!
I made these beauties for Pride week in St. Louis. It just so happened that Pride weekend occurred right after the Supreme Court ruling for same-sex marriage was passed. That was a cause for celebration in my book, and no celebration is complete without some kind of sweets. I might be biased, but I think that these rainbow cupcakes were perfect for the celebration.
We've got a long way to go in regard to civil issues in this country. I don't want to get into my personal beliefs too much on here, and I'm not here to shove my "agenda" (for the record, the only "agenda" I have is to bake a lot of tasty sweets and try to be a happy, decent human being!) down anyone's throat. But the Supreme Court ruling was a big step toward improvement and more open-mindedness and understanding. And I'm thrilled that we're starting to make some more progress as humans. I hope that we can continue to move forward to work on the myriad of issues involving equality (with sexual orientation, race, gender, etc.). In the meantime, I'll continue with my attempt to make the world a better place with pretty, homemade baked goods.
For these rainbow cupcakes, I decided to try a new-to-me recipe for vanilla cupcakes. The recipe comes from another fellow STL redhead, Stef. She's tirelessly tested the "ultimate vanilla cupcake" recipe along with many other bakers. After reading about all of their cupcake testing, I was confident that these cupcakes would turn out great as far as the taste and texture were concerned. Turns out that my confidence was justified, because these cupcakes ended up being 100% amazing!
The cupcakes hold up well; the cake is sturdy, but still soft and moist. The vanilla flavor is perfect. I don't know if my taste buds are just whack, but I swear that I can taste the egg in some vanilla cake recipes [which is a huge turn-off to me]. These aren't like that at all; they just taste like pure, unadulterated vanilla cake.
To give them that gorgeous, tie-dye/rainbow effect, I got my ideas from this post on Dessert Now, Dinner Later's blog. Then I topped them with a simple vanilla buttercream, and obviously I had to add lots of rainbow sprinkles, plus some hearts. Yay for pretty rainbow cupcakes, marriage equality, and making progress on some of our issues.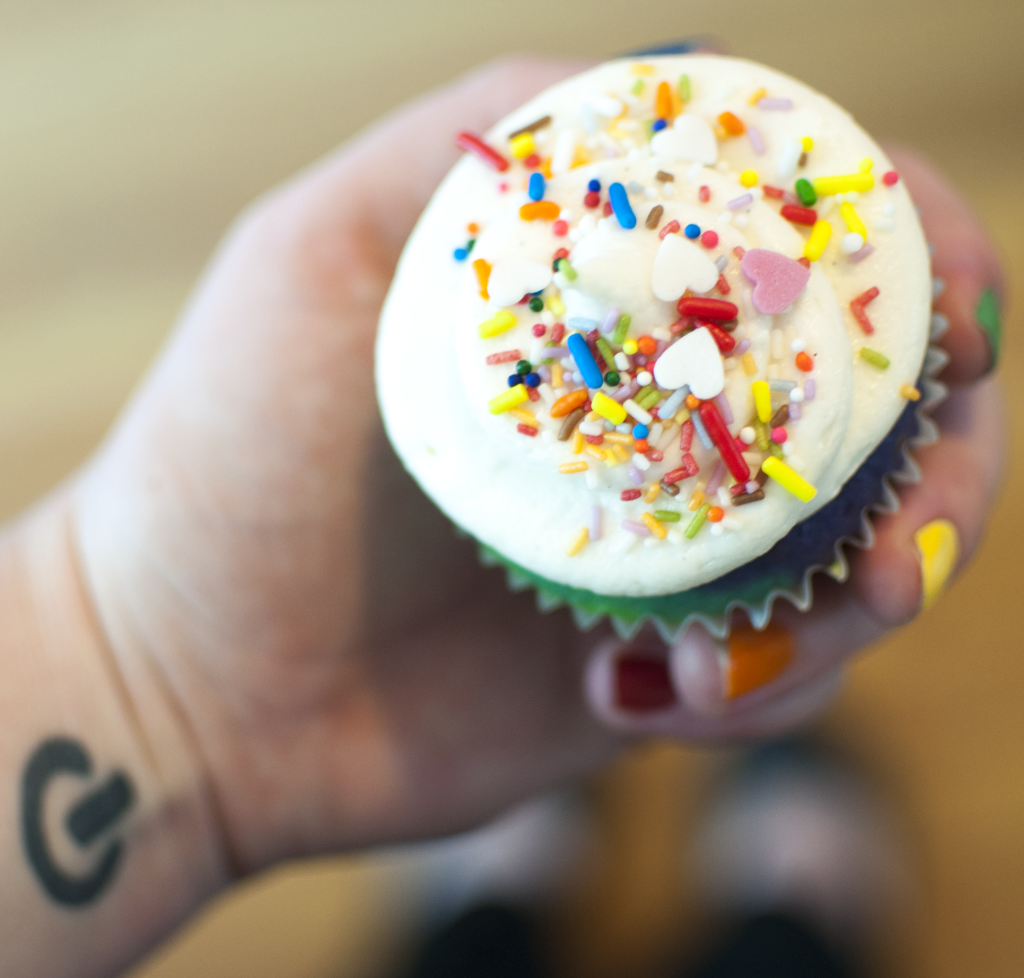 // // // // // // // // // // // // // // // // // // // // // // // // // // // // // // // // // // // // // // // // // //
Vanilla Rainbow Cupcakes.
Yield: About sixteen cupcakes.
Ingredients:
For the cupcakes:
– 1 cup granulated sugar
– 1 vanilla bean, split in half lengthwise, and seeds scraped out
– 1 3/4 cups cake flour, not self-rising [I used this cake flour substitute from Joy the Baker.]
– 1 1/2 tsp. baking powder
– 1/2 tsp. baking soda
– 1/2 tsp. salt
– 1/4 cup (half stick) unsalted butter, at room temperature
– 2 large eggs, at room temperature
– 1/3 cup full-fat sour cream
– 1/4 cup canola oil or vegetable oil
– 1 TBSP. pure (not imitation) vanilla extract
– 2/3 cup whole milk [I used 2%.]
– High-quality gel food coloring [I used the Spectrum brand, but the Americolor brand is great too. Wilton is also fine. I wouldn't use liquid food coloring for this project.], in red, orange (or make your own orange, which is what I did), yellow, green, blue, and purple.
For the frosting: (Note: You may double this recipe, depending on how piled-high you like your frosting.)
– 1 1/2 cup powdered sugar [Add more until it reaches your preferred consistency.]
– 1/2 cup unsalted butter, room temperature
– 2 tsp. vanilla bean paste [Add more to taste.]
– 1 TBSP. milk
Instructions:
1. Preheat your oven to 350 degrees F. Line two 12-cup muffin tins with sixteen liners and set aside.
2. In a small bowl, combine the sugar and seeds from the vanilla bean. Using the back of a spoon, apply pressure to break up any clumps of seeds to infuse the vanilla flavor into the sugar. Set aside.
3. In a medium-sized bowl, or bowl of a stand mixer, whisk together the cake flour, baking powder, baking soda, and salt. Add the vanilla bean sugar and mix until combined.
4. Add the butter and mix on medium-low speed for three minutes. You'll end up with a fine, crumb-like texture.
5. In a small, separate mixing bowl, whisk together the eggs, sour cream, oil, and vanilla extract until the mixture is smooth.
6. Add the egg mixture to the flour mixture, and beat on medium speed until they're just combined.
7. Slowly add the milk, and mix on low speed. Mix until just combined. The batter will be very liquid-y; this is okay.
8. To create the rainbow effect, evenly divide the batter into six small bowls. Add the desired amount of food coloring to each bowl and gently mix to get your six colors. Be careful to not overdo it with the food coloring; too much and it can make the final product taste bitter.
9. Carefully spoon each color in layers into the cupcake liners, filling until they're about halfway full. [Alternatively, you can put each batter color into a small Ziplock bag, snip the corner of the bags, and pipe the colors in… That will make the layers more even, but I was too lazy to do that.]
10. Bake the cupcakes for 14 minutes, then test to see if they're done. They are done when a toothpick comes out clean. The cupcakes won't be super dark (although they won't brown much anyway with the colors). Bake a bit longer for a minute to two minute increments until they're done. Cool on a wire cooling rack.
11. To make the frosting: beat the butter for a few minutes until it's light and fluffy. Carefully add the powdered sugar and vanilla bean paste (or extract), and beat until light and fluffy. Add milk to thin out the frosting to the desired consistency. Pipe or spread the frosting on the cupcakes as desired, and top with lots of colorful sprinkles! Enjoy.
Recipe Sources:
– Vanilla cupcake recipe from The Cupcake Project.
– Vanilla bean buttercream frosting recipe from The Cupcake Project.
– Rainbow cupcake tutorial from Dessert Now, Dinner Later.