As you know, I am currently in Germany for a study abroad trip with some people from my undergraduate class. We're here for an IT security seminar at one of the universities, plus we're spending some time doing touristy stuff and just exploring.
One of my new friends just had his birthday while we've been out here, so I wanted to bake something for him. He requested a pie, but he said that overall, he didn't care what I ended up making. I decided to try to conquer a pie anyway. Pie has always intimidated me, and unless you're a baker, you probably won't understand why. Pies seem so simple. And they really are. That phrase "easy as pie" doesn't exist for nothin'. The fruit fillings have always been easy, but it's the crust that tends to be the bane of many bakers' existence. Leave it to me to try to conquer something that scares me in a foreign country. [I'm a glutton for punishment, I guess.]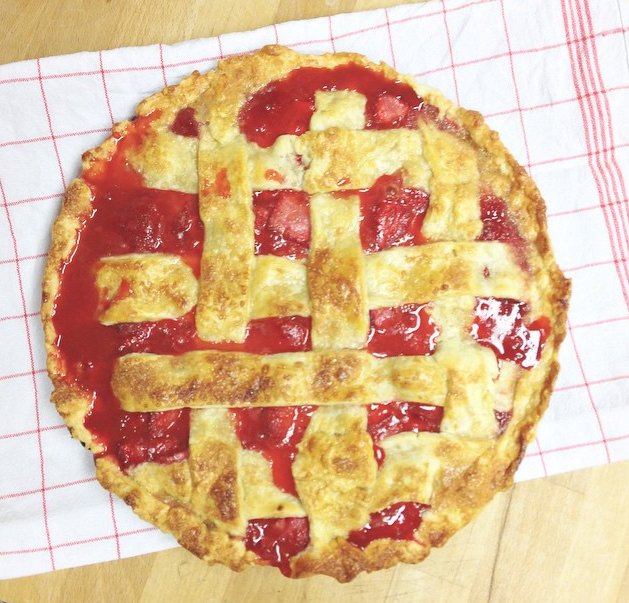 So the grocery shopping for ingredients began. I must've spent at least four hours searching for ten ingredients. It's hard to go grocery shopping when you can't read German. 😉 Eventually, I found just about everything, although I had to make a few minor substitutions. And I've discovered that the secret to the best pie crust ever is buttermilk. I don't really like buttermilk that much [it smells pretty unpleasant], but it really is the shiznit for baking.
I made this pie in the kitchen in our hostel. And it was actually a lot of fun, once I got past trying to convert tablespoons to grams and Fahrenheit to Celsius. Haha. The German people who are living in the same hostel were both very confused and curious about what I was doing. Apparently, Germans don't really have a word for pie. They call it kuchen [pronounced "kuh-khen" with that back-of-the-throat, hock-a-loogie type of sound in the middle of the word]. Kuchen is also synonymous for cake. I always thought kuchen meant cake, but I think it's sort of a catch-all phrase for sweet desserts.
Okay, so this pie. The crust is perfect. I've found that even if I do things correctly and follow directions, I still have never been overly impressed with pie doughs. But the crust is on point, as my friends would say. It's flaky and buttery and perfect. The strawberry filling is juicy and sweet and just perfect. That's all there is to say. If I can make this pie in a foreign country, then you can surely make this pie in your own kitchen. It was worth all the hassle and anxiety that went along with searching for ingredients and converting measurements. I even said to my fellow travel buddies, "I swear, if this pie doesn't turn out after all this bullshit, I am going to start crying!" Luckily, it turned out fine. Our new German friends even enjoyed a slice with vanilla bean ice cream. 🙂
This pie has actually inspired me to MAKE ALL THE PIES! from here on out. I really need to up my pie game as a baker. And that's WHAT'S UP. 
PS: Happy Birthday, Randall! Prost!
// // // // // // // // // // // // // // // // // // // // // // // // // // // // // // // //
Strawberry Lattice Pie.
Yield: One 8 or 9 inch pie.
Ingredients:
For the crust:
– 2 1/2 cup all-purpose flour
– 2 TBS. granulated sugar
– 3/4 tsp. salt
– 1 cup (2 sticks) unsalted butter, cold, cut into cubes
– 1/2 cup cold buttermilk
For the strawberry filling:
– 5-6 cups fresh strawberries, hulled and sliced in half
– 1/3 cup granulated sugar
– 1/3 cup raw cane sugar [or brown sugar, but I couldn't find any]
– 1/4 cup cornstarch [I used flour as the thickener since I couldn't find cornstarch here]
– Pinch of salt
– Dash of pure vanilla extract
– 2 TBS. fresh lemon juice
– heaping 1/4 tsp. ground ginger
– 1/8 tsp. ground cinnamon
– 1 large egg, beaten and raw cane sugar [similar to turbinado sugar] for topping the unbaked pie

Instructions:
1. To make the crust: Whisk together the flour, sugar, and salt in a medium bowl. Add the cold, cubed butter to the dry ingredients.
2. Using your fingers, work the butter into the flour mixture, and quickly break it down. The size of the butter pieces may vary; this is okay. You want chunks of butter throughout the crust.
3. Create a well in the middle of the mixture, and pour in cold buttermilk [Note: I added about a tablespoon or two more of milk than the recipe called for]. Use a fork to bring the dough together, moistening all of the flour bits.
4. On a lightly floured work surface, dump out the dough mixture. It will be very shaggy and moist; that is how it's supposed to look. Divide the dough in half, and gently knead into two disks. Wrap the disks in plastic wrap, and refrigerate for at least an hour. You must let the dough rest and chill in the fridge for it to work correctly.
5. To make the filling: toss together the strawberries, sugars, cornstarch (or flour), salt, lemon juice, vanilla, and spices. Toss until all of the cornstarch (or flour) has disappeared, and allow to sit for ten minutes. The strawberries will produce their own juice.
6. To assemble the pie: On a well-floured surface, roll the bottom crust about 1/8″ thick, and about 12″ in diameter. Transfer to the pie pan, and trim the edge almost even with the edge of the pan. Spoon your filling into the crust.
7. Roll out the top crust in the same manner, then use a pizza slicer to slice the dough into 1-inch strips. Weave the strips on top of the pie to make a lattice. The Kitchn has a helpful guide, if you're not sure how to make a lattice crust.
8. To finish, place a rack in the center of your oven and preheat it to 400 degrees F. Line a baking sheet with parchment paper and set aside. Beat the egg to make an egg wash, then brush over prepared pie crust. Sprinkle with sugar.
9. Place pie on baking sheet and bake for 15 minutes, then reduce the temperature to 350 degrees F. Bake for about thirty more minutes, or until the crust is golden and the filling is bubbling. Remove from the oven and allow to cool completely before slicing and serving. Enjoy!
– Recipe slightly adapted from Joy the Baker.