I feel the need to preface this blog post with a statement: I'm pretty much all for the real butter, y'all. *Paula Deen voice.*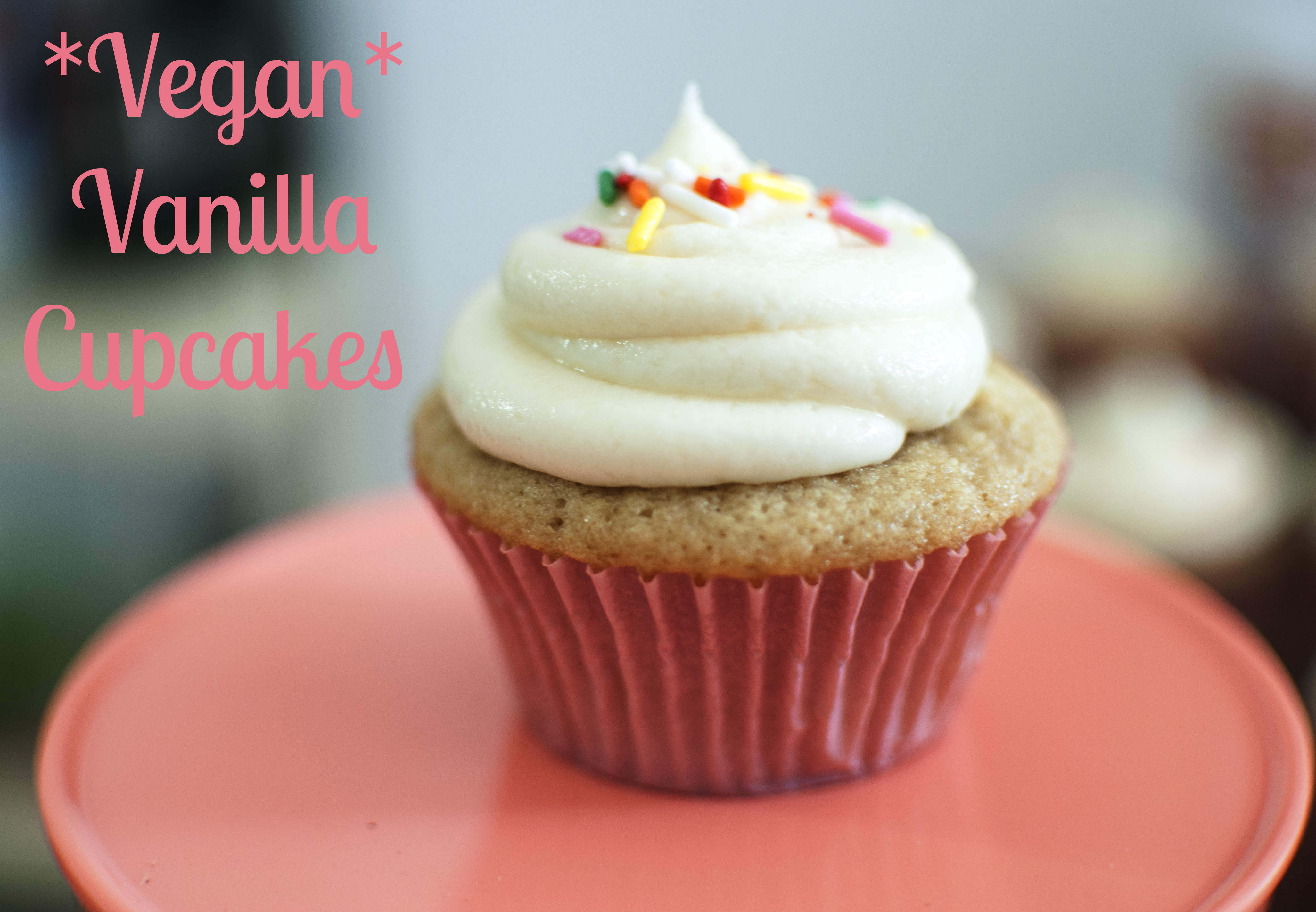 Rarely will I buy shortening, and I'm not a fan of most vegan "butter." Real butter is where it's at.
That being said, I do like to experiment with recipes from time to time. I've been messing with a few different vegan cupcake recipes every now and then. While I have found one delicious chocolate one, I hadn't yet settled on a vegan vanilla cake recipe.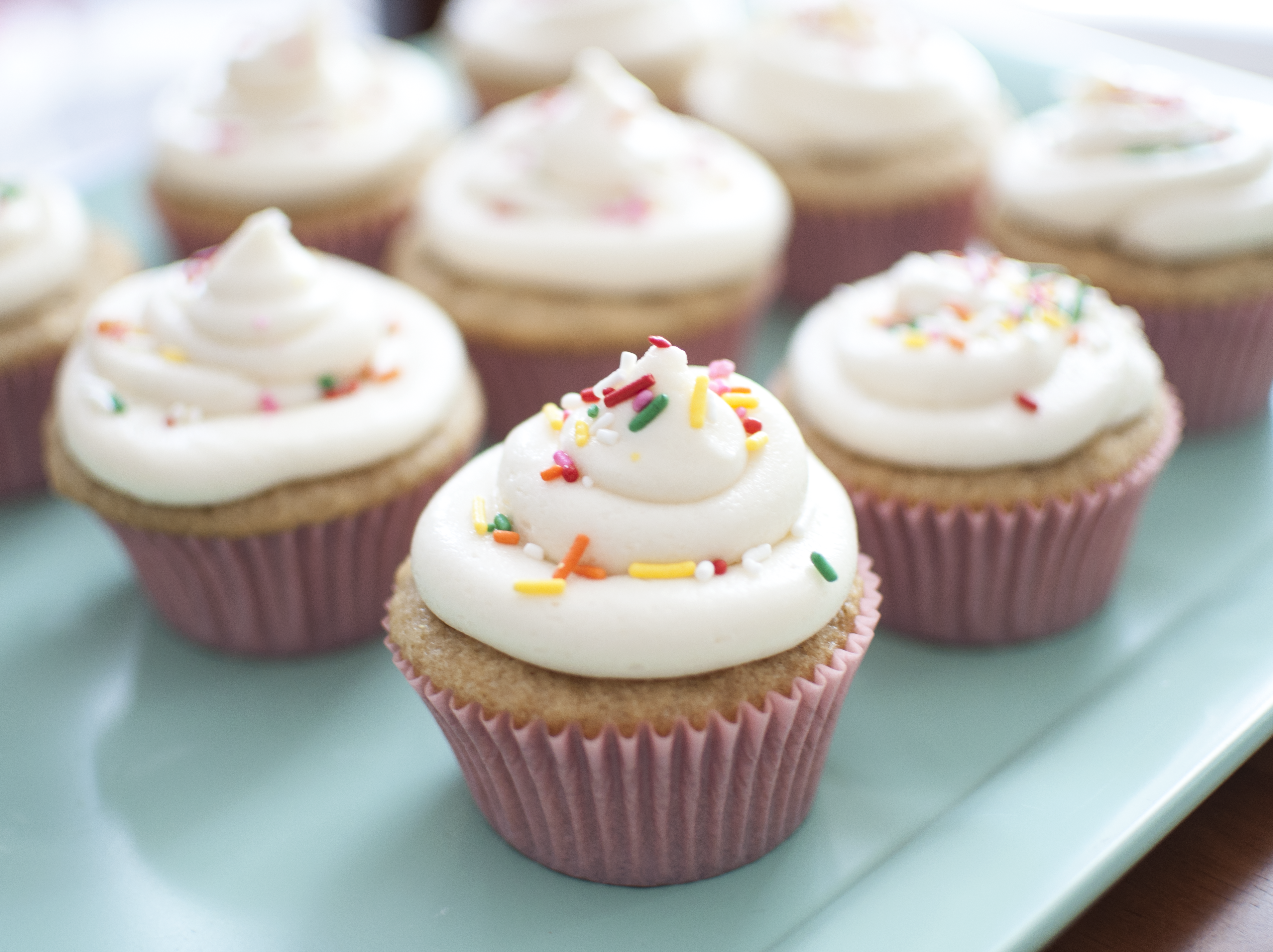 So, while I'll always be partial to real butter… I gotta say that, for being vegan, these cupcakes are pretty good. I *think* I'm finally starting to get used to vegan "buttercream." But I'm always going to want real butter over vegan butter. That being said, if you're a vegan, or you know some vegans, then try out these cupcakes. They're definitely good, especially for experimenting. They are especially tasty when you just want some plain vanilla dessert. I think that vanilla is actually pretty underrated. Sometimes I just crave vanilla, despite the fact that I'm a chocoholic. Enjoy!
// // // // // // // // // // // // // // // // // // // // // // // // // // // // // // // // // // // // // // // // //

Vegan Vanilla Cupcakes with Vegan Vanilla "Buttercream" Frosting.
Yield: About 10-12 regular sized cupcakes. 
Ingredients:
For the cupcakes:
– 1¼ cups all-purpose flour
– ½ cup plus ⅓ cup granulated sugar
– 1 tsp. baking soda
– ½ tsp. salt
– ⅔ cup unsweetened almond milk (or other non-dairy milk)
– ⅓ cup canola oil
– 2 TBSP. apple cider vinegar or white vinegar
– 2 tsp. pure vanilla extract
For the frosting:
– 1/2 cup (1 stick) vegan butter [such as Earth Balance "vegan buttery sticks"], softened
– 2 1/2 – 3 cups powdered sugar
– 1/4 tsp. pure vanilla extract
– Splash non-dairy milk [I used almond milk]
Instructions:
1. Preheat your oven to 350 degrees F. Line a muffin with 12 paper liners, and set aside.
2. In a big bowl, whisk the dry ingredients together. In another smaller bowl, mix the wet ingredients together.
3. Add the wet ingredients to the dry ingredients, and mix until just combined. Do not over mix, or your cupcakes will fall flat, and nobody wants that!
4. Evenly divide batter among the liners, and bake 18-20 minutes until the tops are slightly golden. Set cupcake pan on a wire cooling rack, and allow to cool for about 5 minutes. Once they're somewhat cooled, remove the cupcakes from the pan, and allow to cool completely on the rack.
5. To make the frosting, beat the vegan butter in the bowl of a stand mixer until it's light and fluffy, for about 3 minutes. Gradually add the powdered sugar, and slowly beat it in with the vegan butter. Add the vanilla extract, and continue to beat until it's light and fluffy. Add almond milk as needed until you reach the desired consistency. Pipe or spread the frosting on completely cooled cupcakes, then top with sprinkles!
– Vanilla cupcake recipe from It Doesn't Taste Like Chicken.
– Vegan frosting recipe from Minimalist Baker.