Do you ever have those times in which you just know something you're making [or baking, as the case may be] is gonna be good? That was the case with this nanner bread.
Now, this nanner bread isn't something I'd eat slice after slice of in a row. It's pretty rich, hence the bananas/chocolate/peanut butter. However, it is really, really good banana bread!
I took some to a little STL foodie get-together at Urban Chestnut Brewery in The Grove, because I needed to pawn it off on people [read: so I wouldn't eat it all, because I would, despite its richness]. I packaged it up in some simple Saran wrap, but then added some pretty Washi tape and emoji stickers! Yes, emoji stickers are a thing. I found some on Amazon. I know they're probably a bit ridiculous, but I love them. They're so fun!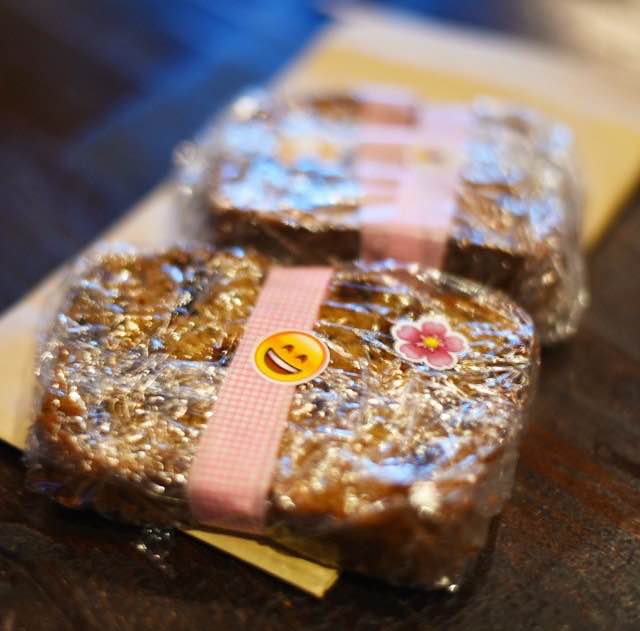 If you've got some overly ripe bananas sitting on your counter, and some creamy Jif [Jif peanut butter is the only peanut butter that matters] sitting in your pantry, well then you should probably make this quick bread. If you know what's good for ya, of course. Package it up all cute-like, and hand it out to people you barely know! They'll probably think you're super sweet [or super creepy; your mileage may vary]! And they'll snack on it while they wait for their food for 45 minutes. 😀 😉
// // // // // // // // // // // // // // // // // // // // // // // // // // // // // // // // // // // // // // // // //
Peanut Butter Banana Bread with Chocolate Chips.
Ingredients:
– 2 cups all-purpose flour
– ¾ tsp. baking soda
– ½ tsp. salt
– 3 medium bananas, mashed
– ½ cup creamy peanut butter
– ½ cup granulated sugar
– ½ cup light brown sugar
– ⅓ cup buttermilk [I used a buttermilk substitute.]
– ¼ cup vegetable oil
– 2 eggs
– 2 tsp. pure vanilla extract
– 1 cup semisweet chocolate chips
Instructions:
1. Preheat your oven to 350 degrees F. Grease a standard sized loaf pan, or cut parchment paper to fit it so that the paper hangs over the sides. Set prepared pan aside.
2. In a medium-sized bowl, whisk together the dry ingredients: flour, baking soda and salt; set aside.
3. In a separate large bowl, beat together the banana, peanut butter, sugars, buttermilk, oil, eggs, and vanilla extract until smooth.
4. Pour the wet ingredients into the flour mixture. Fold together until no raw flour clumps remain. Gently stir in the chocolate chips.
5. Pour the batter into the prepared pan, then smooth the top of the batter. Bake until the loaf is golden brown, and a toothpick or knife inserted into the center comes out with a few moist crumbs. This should take about an hour or an hour and fifteen minutes. Note: If your bread is browning too quickly, place a tended piece of foil over it. [I had to do this at about forty minutes, so just keep an eye on it. But don't open your oven too much.]
6. Allow the bread to cool in the pan for about 10 minutes. Turn it out onto a wire rack to cool completely. The banana bread will keep for several days, wrapped tightly and kept at room temperature.
– Recipe from Brown Eyed Baker.