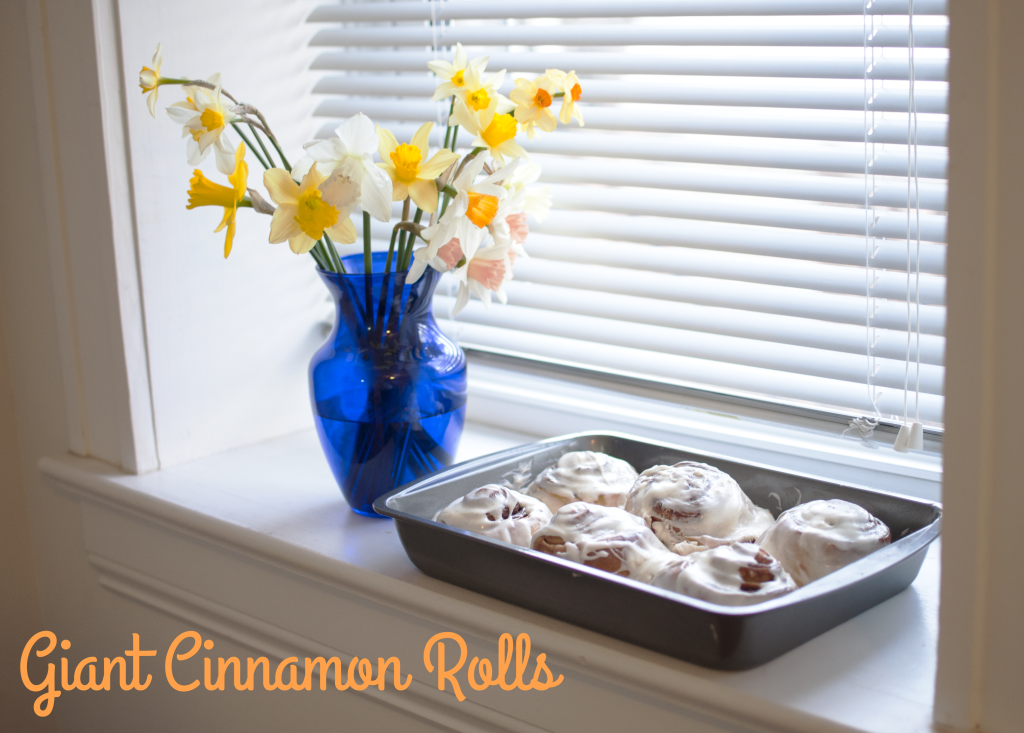 I'm in a pretty straightforward mood today. So let me just get straight to the point with this blog post: I'm pretty sure that these are the best cinnamon rolls I have ever made. Yes, I realize that was a bold statement. But – not to brag – I have made a few cinnamon rolls in my day, and these take the cake [err, take the roll?].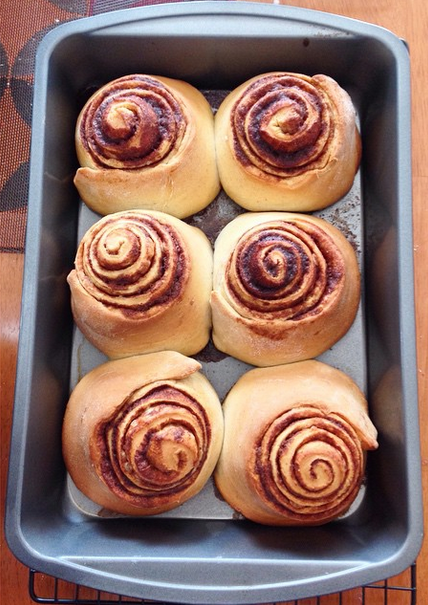 These mofos are huge, as you can clearly see. They are filled with layers upon layers of buttery, delicious, sugary, cinnamon-y swirls. The brown sugar in the filling is probably my favorite part; I absolutely love how it tastes with cinnamon. There is also just a tad bit of cocoa powder in the filling, which I think just deepens the delicious filling even more. The dough is also great; yeast doughs can be tricky, and sometimes lackluster. But I really liked the dough for these.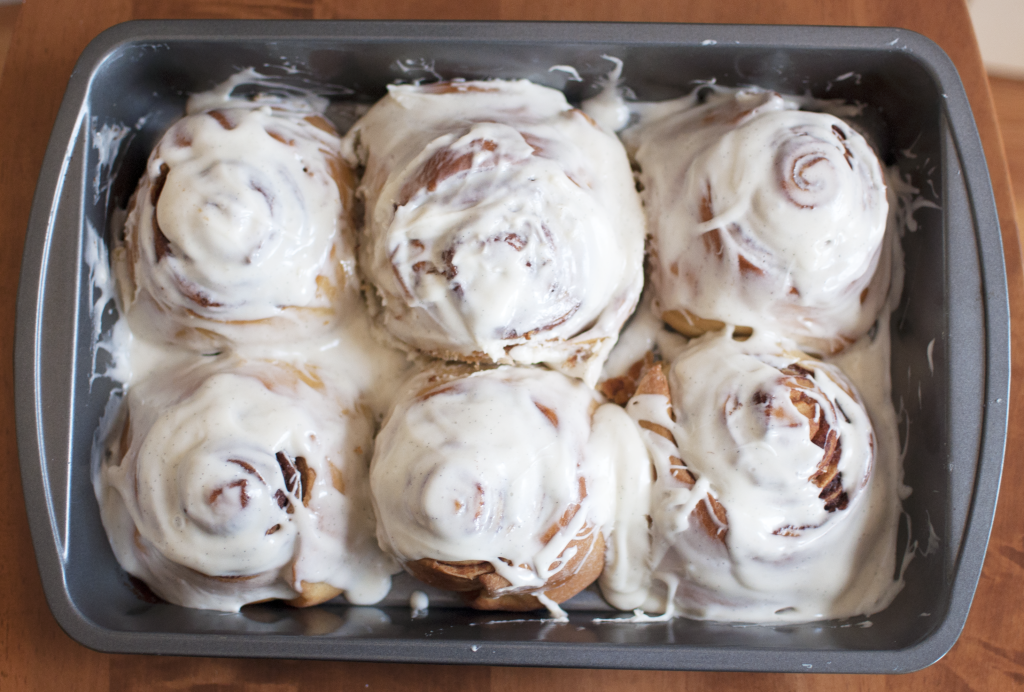 And that vanilla bean cream cheese frosting? *Homer Simpson drool/gurgle noises* It's so creamy and delicious. I would bathe in it. [Sorry/not sorry for that visual.]
For the Cinnamon Sugar Filling:
– 16 TBSP. salted butter, softened to room temp. [You can also use unsalted if you like.]
– 1/2 cup granulated sugar
– 1/2 cup light brown sugar
– 1/2 cup ground cinnamon
– 1/2 tsp. unsweetened, plain baking cocoa
For the Frosting:
– 8 oz. cream cheese, softened
– 8 TBSP. unsalated butter, softened
– 1/2 cup heavy cream
– 3 cups powdered sugar
– 1 TBSP. pure vanilla extract or vanilla bean paste
– 1/4 tsp. salt
Instructions:
1. Begin heating the milk and half & half in a saucepan. Heat until it reaches about 105 degrees F [use a candy thermometer to monitor the temperature].
2. Remove from heat, and allow to cool slightly if it got a bit too hot [you don't want to kill the yeast]. Add the yeast and one tablespoon of granulated sugar. Allow to rest for 10 minutes.
3. Melt the butter, and mix it into the yeast mixture. Add the whole egg and egg yolks, and the vanilla, then mix well.
4. Sift together the dry ingredients together, and set aside.
5. Add the yeast mixture to the bowl of a stand mixer. Next, add half of the dry ingredients, and combine slowly. Add remaining dry ingredients, and combine with a dough hook for five minutes. [*Note: You can also knead for about 6-8 minutes by hand, if you do not have a stand mixer.] Place the dough in an oiled bowl and cover it. Allow the dough to rest and rise for about 1.5 hours.
6. Once the dough has rested for an adequate amount of time and doubled in size, divide the dough in half. Turn it out onto a large floured surface [e.g. a clean counter top]. Roll each half into a large, thin rectangle, about 1/4″ thick. For these rolls, we want very thin layers so that the individual rolls will have more layers.
7. When you have one half of the dough rolled out, spread half of the softened butter all over the entire rectangle. Combine the brown sugar, granulated sugar, cinnamon, and cocoa powder in a bowl. Sprinkle half of this mixture over the buttered dough.
8. Carefully roll the dough, being sure that it's rolling tightly, so that it forms a long roll. Measure the dough and divide it into six even pieces. Place the rolls cut side down into a sprayed 9×13″ pan. [Note: They will look a bit tall and odd in the pan; this is normal.]
9. Once you're done with the first pan, repeat the same process for the second pan of rolls. Cover the pans in plastic wrap, and allow the dough to rest/rise for about an hour.
10. When you're ready to bake, preheat your oven to 325 degrees F. Bake the rolls until golden, about thirty minutes. Remove the pans and cool on a wire cooling rack.
11. While the rolls are cooling, combine the cream cheese, butter, and heavy cream in a mixer bowl. Mix until sooth. Sift the powdered sugar, and add it, the salt, and vanilla. Mix until smooth, and top the cinnamon rolls with your frosting. Enjoy!
– Recipe from Southern FATTY.