Lately, I've been drawn toward simplicity – with regard to both life and baking. I have abandoned my pastry bags and tips. I've been longing for simple, not-too-sweet desserts. Also, I've been yearning for simple, sunny spring days [read: go away, winter].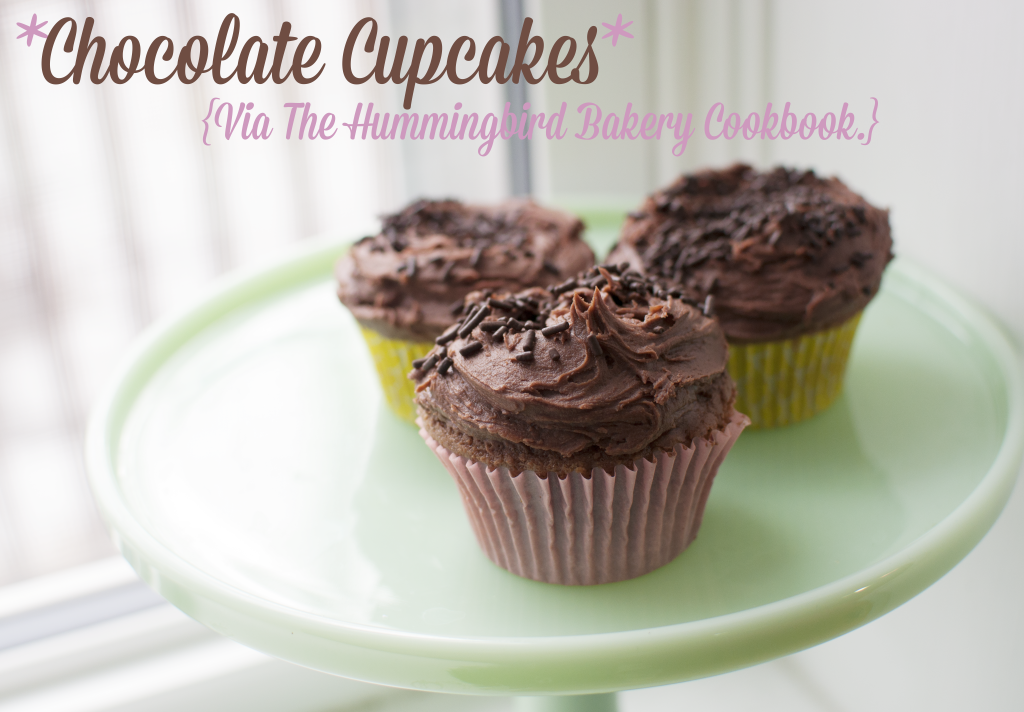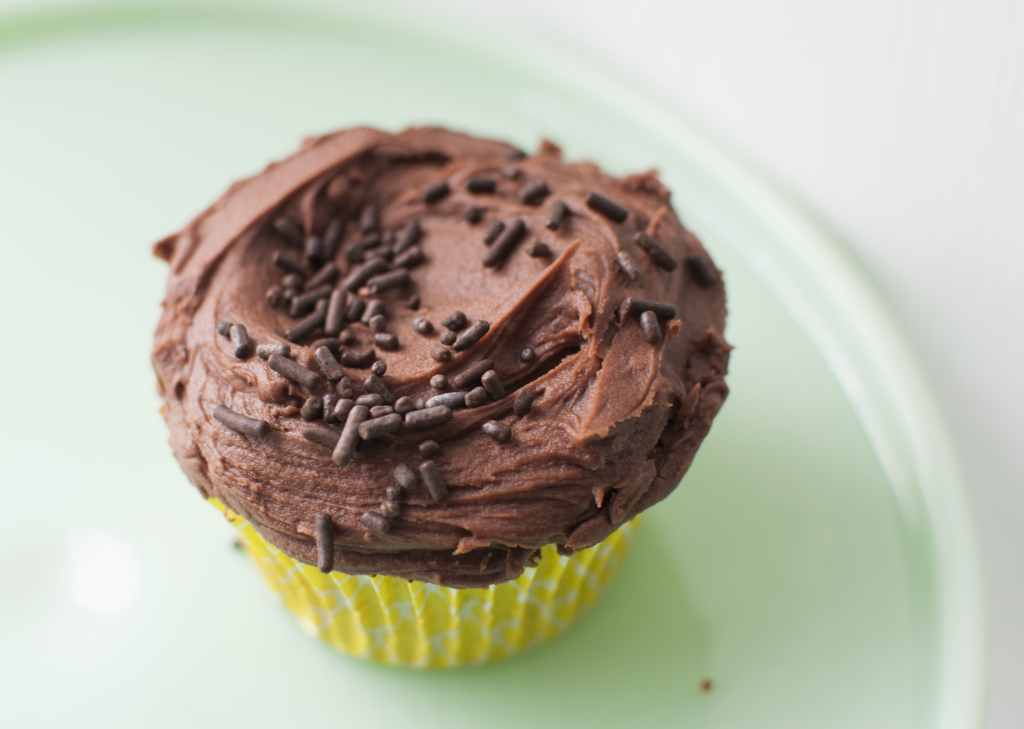 These chocolate cupcakes come from The Hummingbird Bakery cookbook, which was gifted to me by my brother this past Christmas. I have been coveting this cookbook for awhile now, so I'm glad I finally received it [thanks, Nathan!]. The book has all kinds of different cupcake recipes, but these simple chocolate cupcakes are what first caught my eye and thus got added to "the baking queue."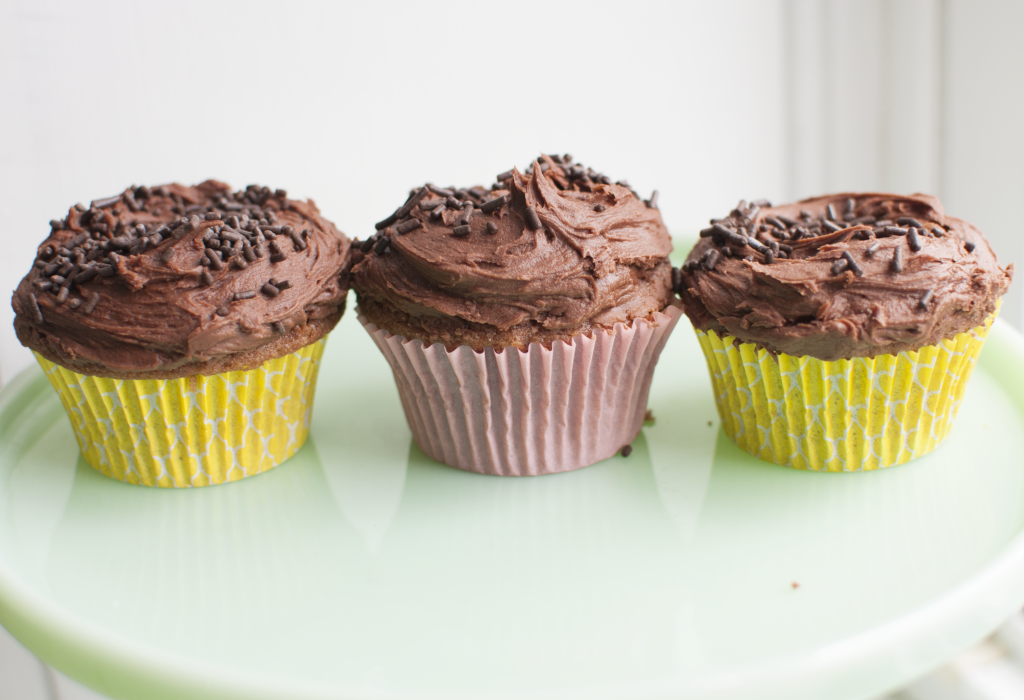 The cupcakes are chocolatey – but not overly so. There is actually not a lot of cocoa powder in them, so the cupcakes are almost like a German chocolate cake. Normally, I'm not a huge fan of cakes with less chocolate, but I'm also a chocolate fiend. Still, I did enjoy these cupcakes. They're also not quite as sweet [Perhaps that's a British baking thing? I'm not sure.], but the frosting adds a nice, creamy sweetness. I topped mine with simple chocolate sprinkles and used pretty, pastel liners for spring! So if you are also craving a simple, chocolatey treat that's not too sweet, try out these chocolate cupcakes with chocolate buttercream!
Oh yeah, and let's continue to cross our fingers for spring's arrival!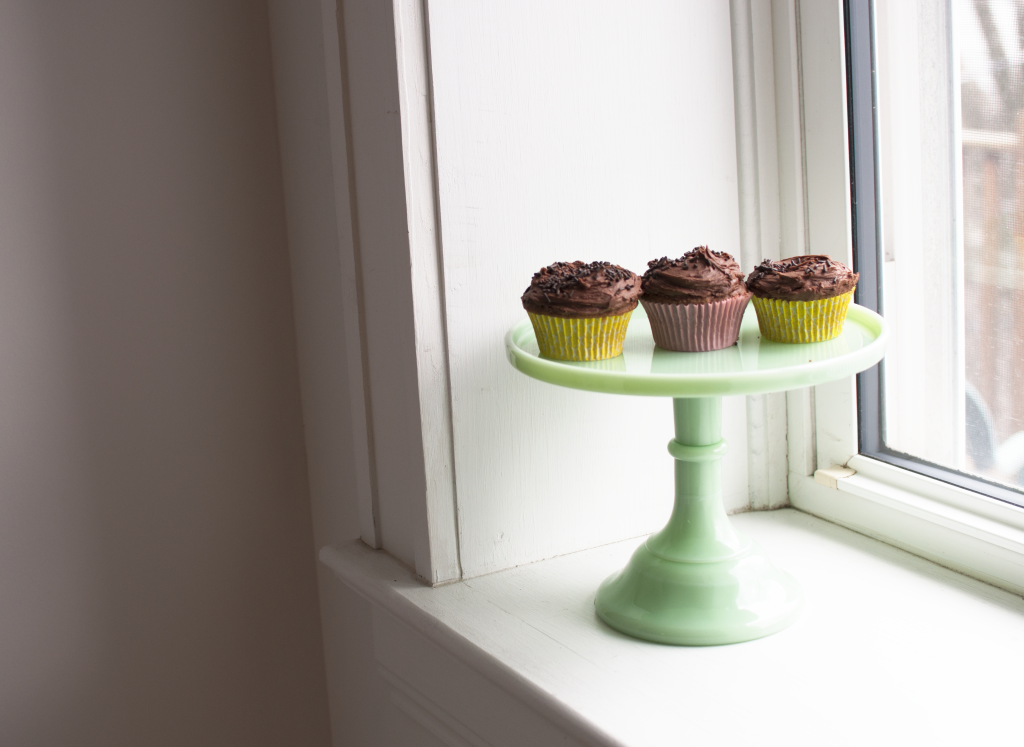 // // // // // // // // // // // // // // // // // // // // // // // // // // // // // // // // // // // // // // // // // // //

The Hummingbird Bakery Cookbook's Chocolate Cupcakes Recipe
Yield: Makes about twelve regular-sized cupcakes.
Ingredients:
For the Chocolate Cupcakes:
– 3/4 cup plus 2 TBS. all-purpose flour
– 2 1/2 TBS. unsweetened cocoa powder
– Scant 3/4 cup granulated sugar
– 1 1/2 tsp. baking powder
– Pinch of salt
– 3 TBS. unsalted butter, at room temperature
– 1/2 cup whole milk [I used 2%, which works fine], at room temperature
– 1 egg, at room temperature
– 1/4 tsp. pure vanilla extract
For the Chocolate Buttercream Frosting:
– 2 1/2 cups powdered sugar, sifted
– 6 1/2 TBS. unsalted butter, at room temperature
– 1/3 cup unsweetened cocoa powder, sifted
– 2 TBS. whole milk [again, 2% is okay too]
Instructions:
1. Preheat your oven to 325 degrees F. Prepare muffin tins with twelve liners and set aside. In the bowl of an electric stand mixer, add the flour, cocoa powder, sugar, baking powder, salt, and butter. Using a paddle attachment, beat on slow speed until a sandy consistency is achieved, and everything is combined.
2. In a small bowl or pitcher, whisk together the milk, egg, and vanilla. Then slowly pour about half of this mixture into the flour mixture. Mix to combine and then turn the mixer up to high speed to beat until lumps disappear.
3. Next, turn the mixer back to slow speed and slowly pour in the remainder of the milk mixture. Scrape down the sides of the bowl as needed, to ensure that all of the unmixed ingredients are incorporated. Continue mixing the batter for a few more minutes until it's smooth, but be careful to not over mix it.
4. Divide the batter among the liners until they're about 2/3rds full, then bake in preheated oven for about 22-26 minutes, or until the tops of the cakes bounce back when touched. Or, a toothpick inserted in the middle should come out clean when they're done.
5. Allow the cupcakes to cool for a few minutes in the muffin pan, then place them on a wire rack to cool completely.
6. To make the buttercream frosting, beat the butter until light and fluffy, and add in the cocoa powder and powdered sugar. Beat until fluffy, and add in milk as necessary to smooth it out.
7. Once cupcakes are totally cooled, spread frosting on and decorate as desired. Enjoy!