The honest title of this post should be: Fudgy Dark Chocolate Cupcakes for One. If you're me, anyway. Yeah, that's right. I made two cupcakes just for myself. To be fair, I did eat only one shortly after photographing them. Now I'm finishing this post from the train, so the second cupcake will be my little train snack in an hour or so. [It may or may not be my second breakfast…]
I'm really loving small batch baking recipes these days. While my coworkers and friends usually reap the benefits of my baking projects, sometimes it's just nice to not have to bake 24 cupcakes, you know? Sometimes I just want to bake [or in this case, I was craving chocolate], but I'm not in the mood to make a bunch of something. And sometimes – I will be bold and admit this – I just don't feel like sharing [sorry Brian!].
However, I do have to say that I think these cupcakes would be perfect for Valentine's Day. That's why I went with heart sprinkles on mine. You might notice that I have mini hearts on one cupcake, and even more miniature hearts on the other cupcake. Totes adorbs. [Can't believe I just said that. Ha!]
So if you're craving cake, or if you're craving chocolate, but you don't want to overindulge, may I suggest that you make these?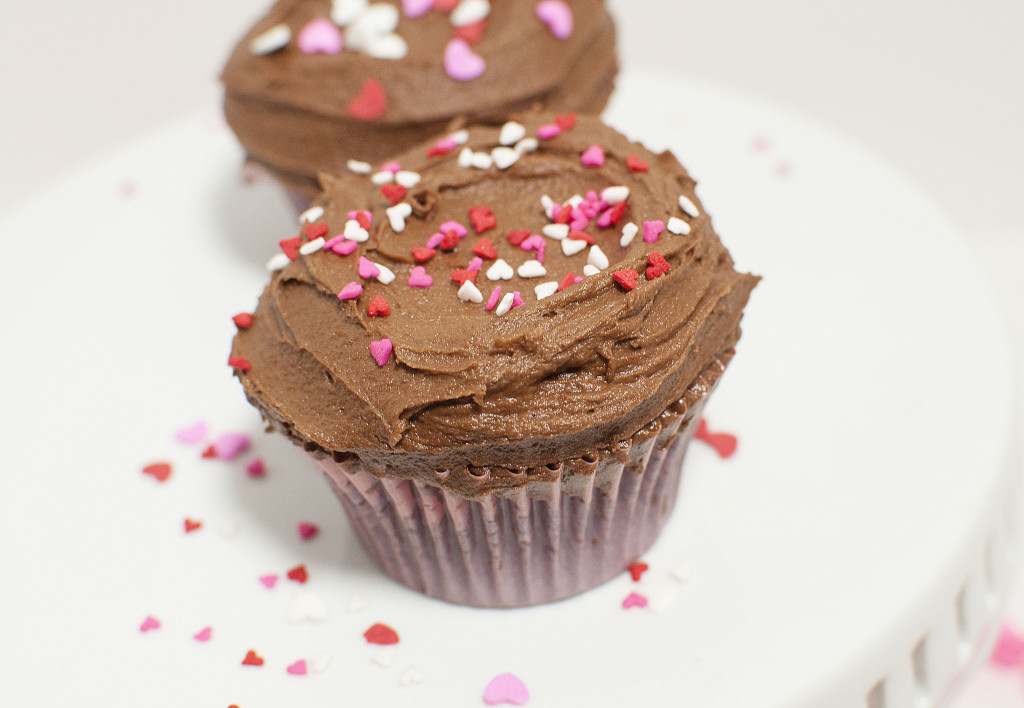 I tried to frost mine with a new technique I'm teaching myself – one that doesn't involve piping tips and bags. I used an offset spatula to frost mine, and while I don't think I'm quite there with the other decorating methods, I like how they turned out. Perhaps even more important, they taste great, too. They are deeply rich and chocolatey, and the buttercream is just a nice touch to the chocolate cake. Personally, I love chocolate buttercream frosting on chocolate cake, so these hit the spot.

Chomp!
// // // // // // // // // // // // // // // // // // // // // // // // // // // // // // // // // // // // // // // // // // // // 
Fudgy Dark Chocolate Cupcakes with Chocolate Buttercream 
Yield: Two regular-sized cupcakes.
Ingredients:
For the cupcakes:
– 3 TBS. all-purpose flour
– 2 TBS. granulated sugar
– 1 1/2 tsp. dark cocoa powder [Note: I get my Dutch-processed cocoa powder from King Arthur Flour. If you can't find Dutch processed, you may use regular cocoa powder; it just won't be as rich/dark.]
– 1/8 teaspoon baking soda
– pinch of salt
– 2 TBS. water
– 1 TBS. vegetable oil
– 1/8 tsp. of vanilla extract [I used about 1/4 tsp., but that's just me.]
– 1 TBS. chocolate chips (optional)
For the chocolate buttercream:
– 2 TBS. unsalted butter, very soft
– 1 TBS. dark cocoa powder
– 4-5 tablespoons of powdered sugar
Instructions:
1. Preheat your oven to 350 degrees F. Line a muffin tin with two liners.
2. In a small bowl, whisk together the dry ingredients: flour, sugar, cocoa, baking soda, and salt.
3. Make a small well in the center of the bowl, and add the wet ingredients: water, oil, and vanilla. Mix all of the ingredients together until smooth.
4. Scoop the batter into the liners, and top them with chocolate chips, if desired. Bake the cupcakes for about 18 minutes, or until a toothpick inserted in the middle of a cupcake comes out clean. Note: Mine were done in about 16 minutes, but oven temperatures vary. Remove cupcakes from the oven, and allow to cool completely on a cooling rack.
5. While the cupcakes are cooling, make the buttercream: add the cocoa powder to the softened butter and stir until combined.
6. Using a spoon or small whisk, add the powdered sugar to the cocoa/butter mixture, one tablespoon at a time. Continue mixing until the frosting is thick and creamy.
7. Frost cooled cupcakes as desired, and enjoy!
Recipe from The Baker Chick.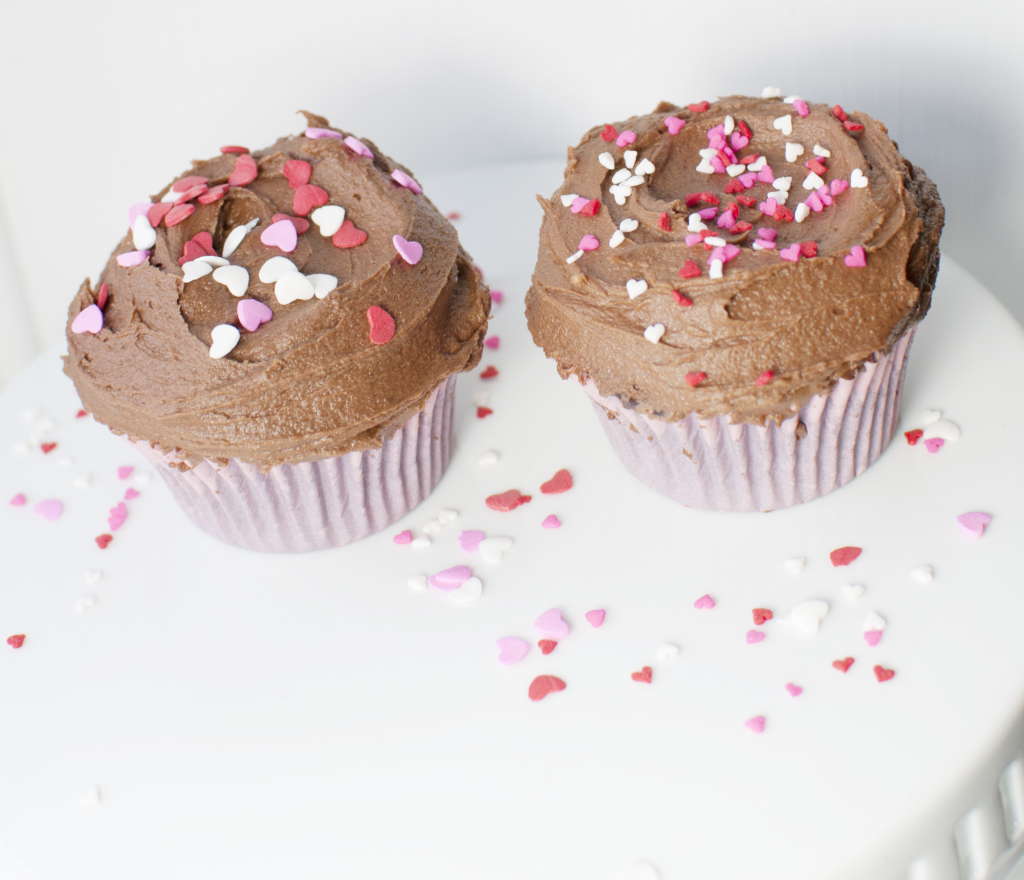 If you make two cupcakes for yourself, I won't tell anyone. 😉