There is a time for fancy, labor-intensive desserts. And then there are times for simple desserts. Prime example: A few weeks ago, I was really in the mood for some simple chocolate cupcakes.

I searched high and low for something that wasn't overly complicated – which is harder than it sounds. There are times where I have no desire to melt chocolate, and sometimes I'm too lazy to even add boiling water to a batter for chocolate cake.
Luckily, I found these simple chocolate cupcakes with chocolate buttercream frosting, and the recipe is scaled down to make ten mini cupcakes. Brilliant. [I know they look fancy, but they're actually quite simple and came together very quickly.]

Unfortunately, I didn't have time to take fancy pictures of these little guys, since they were for the photographer from my little photo shoot.
But I think these pictures will do for now.

Yo dawg, I herd u like pics of food, so I took pics of food AND someone taking pics of food. 😛

These little cupcakes are moist, rich, and chocolatey. They're perfect when you need a little chocolate pick-me-up [which is at least once a day, every single day – if you're me], but there aren't too many of them, so no feeling guilty about indulging. They are also perfect to share with someone. Heck, if I had a special someone, I'd be baking them all the time for said someone. But until I find that elusive "special someone," I'll happily bake them for friends and for myself. These cupcakes are so easy to whip up, and I even piped the light, cocoa-y frosting on 'em in a jiffy. And of course, I had to add pretty sprinkles! Don't they look just darling [can't believe I just said that, haha] on my new jadeite cake stand? I love that cake stand. So pretty.
Okay, go on with yo bad self and make these cupcakes. They are a tasty little no-fuss treat. And that's that sh*t I DO like. 😀
 //   //   //   //   //   //   //   //   //   //   //   //   //   //   //   //   //   //   //   //   //   //   //   //   //   //   //    //   //   
Simple Mini Chocolate Cupcakes with Chocolate Buttercream Frosting
Yield: About 10 MINI cupcakes.
Ingredients:
For the cupcakes:
– ⅓ cup all-purpose flour
– 2 TBS. unsweetened cocoa powder
– ¼ tsp. baking soda
– ¼ tsp. baking powder
– ¼ tsp. instant espresso powder [Optional – but this does deepen the rich, chocolate flavor… I get that most people probably don't have it on hand, but I do, so I used it!]
– 4 tsp. canola oil
– ½ tsp. vanilla extract
– ¼ cup lightly packed light brown sugar
– ⅓ cup low-fat buttermilk [Don't have buttermilk? That's cool, neither do I. I used an easy buttermilk substitute of 2% milk plus some white distilled vinegar. It works, yo.]
For the chocolate buttercream:
– 4 TBS. unsalted butter, at room temperature
– ¾ cup powdered sugar
– ¼ tsp. vanilla extract
– 2 TBS. unsweetened cocoa powder
– splash of milk, if necessary
– cute sprinkles [NOT optional! Haha.]
Instructions:
1. Preheat your oven to 350 degrees. Line a mini muffin tin with 10 mini cupcake liners [or just grease the cups real well if you don't have mini liners].
2. Whisk together the dry ingredients in a medium-sized bowl [flour, cocoa powder, baking soda, baking powder, and espresso powder].
3. In a separate bowl, whisk together the canola oil, vanilla extract, brown sugar, and buttermilk until they're well combined.
4. Pour the wet ingredients into the bowl with the dry ingredients, and mix until just combined. Don't overmix!
5. Fill each cup with the batter, and bake the cupcakes for about 8-11 minutes, or until a toothpick inserted in the center of a cupcake comes out with moist crumbs. Let the cupcakes cool in the pan for a minute or so, then move them to a wire cooling rack and allow to cool completely.
6. Make the frosting by beating the butter and powdered sugar with a hand mixer [or stand mixer if you have one]. Start out on low speed unless you want to be covered in powdered sugar.
7. Once the butter and powdered sugar are combined, add the cocoa powder and vanilla extract. Beat well until combined and fluffy; add a splash of milk if it seems too dry.
8. Frost the cooled cupcakes, then add pretty sprinkles and serve to a lucky someone [or yourself, I won't judge]!
Recipe from Christina of Dessert for Two.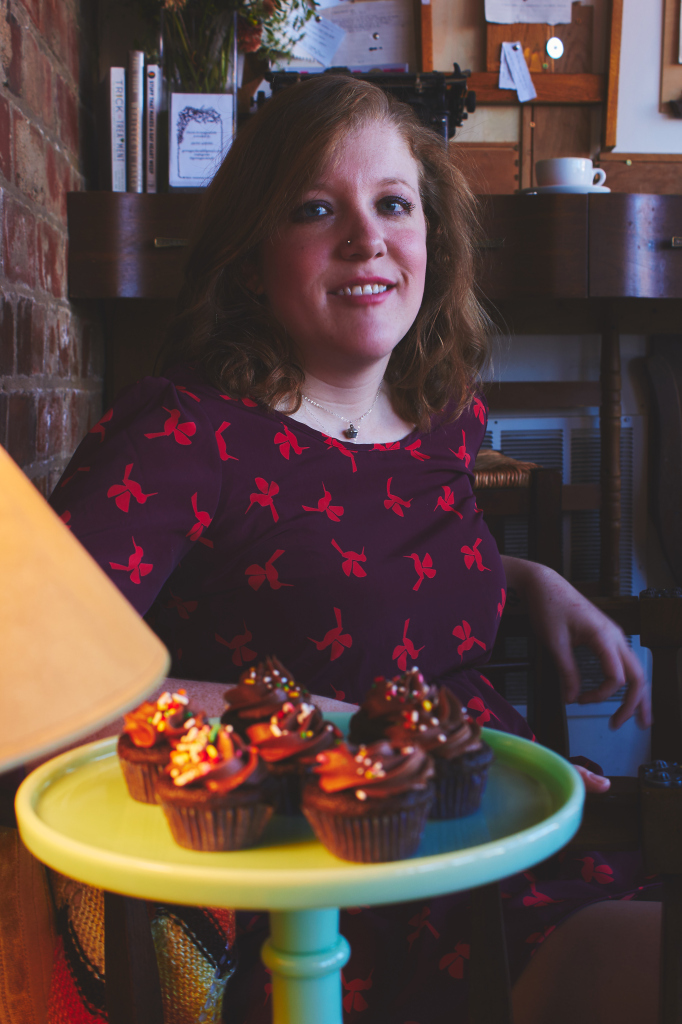 Me being super hipster-y with the cupcakes in a coffee shop in STL. Yup.