I never knew that it was possible to love a boozy cupcake as much as I love these. Holy crap. I first had one that was made by a fellow baker/coworker – Kelley – at a party awhile back. And it was just love at first sight.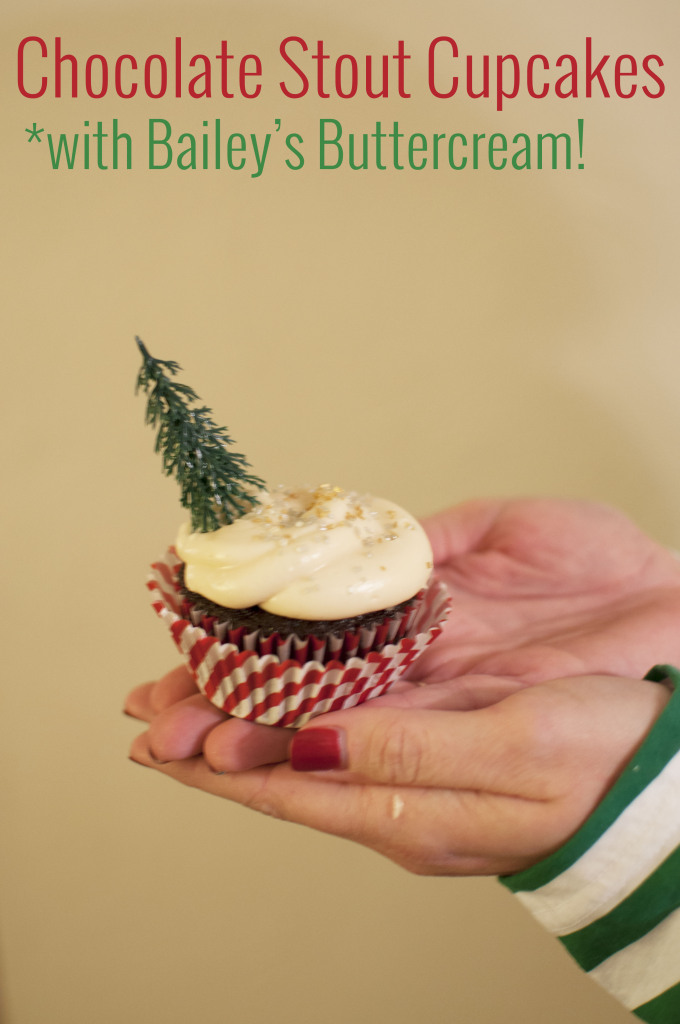 You might be wondering what it is about using a stout beer in cake that makes the cake so amazing. I don't know the exact science behind it, but something about that stout added with the cocoa powder adds an extra depth of flavor and richness to the final product. It's hard to explain; it's just one of those things that is awesome.
I have made these cupcakes several times, but I recently made them again for an ugly sweater party with some friends. Usually I prefer to use one of St. Louis' local brewery's stouts in these cupcakes – 4Hands' Chocolate Milk Stout – it's seriously one of my favorite stouts. This time, however, I opted for another local brew: Schlafly's Coffee Stout. I think that the coffee in the stout really added another nice depth of flavor to the cupcakes; coffee and chocolate are always a good pair. Of course, you could use a common stout, such as Guinness. I'm just a fan of using local products in my final baked goods wherever possible, and the 4Hands and Schlafly stouts are solid choices. 🙂
Since these cupcakes were for a Christmas party, I got pretty festive with them. I have an overabundance of sprinkles, so I used some of my Christmas-y sprinkles. I then added these cute little plastic pine tree cupcake toppers to several of them. I think they turned out pretty well, and that's my absolute favorite part of baking: when treats turn out tasting delicious AND looking awesome. It's just the bees knees.

//   //   //   //   //   //   //   //   //   //   //   //   //   //   //   //   //   //   //   //   //   //   //   //   //   //   //    //   //   
Chocolate Stout Cupcakes with Irish Whiskey Chocolate Ganache Filling + Bailey's Buttercream Frosting
Yield: 24 regular sized cupcakes. I actually cut the recipe in half for the Christmas party, which is easy to do with this recipe.
Ingredients:
For the Cupcakes:
1 cup stout beer [such as Guinness, or opt for an awesome local stout if you can]
1 cup [2 sticks] unsalted butter
3/4 cup unsweetened cocoa powder [preferably Dutch-process]
2 cups all purpose flour
2 cups sugar
1 1/2 tsp. baking soda
3/4 tsp. salt
2 large eggs
2/3 cup sour cream
For the Ganache Filling:
8 oz. bittersweet chocolate [I used the Ghirardelli semi-sweet chocolate bars]
2/3 cup heavy cream
2 TBS. unsalted butter, at room temperature
1 to 2 tsp. Irish whiskey [Optional – I used Jameson.]
For the Bailey's Frosting:
3 1/2 cups (14 oz.) powdered sugar
1 1/4 cups (2 1/2 sticks) unsalted butter, at room temperature
1 tsp pure vanilla extract
6 to 8 TBS. Irish cream [I used Bailey's… Creamy beige!]
8 oz. (1 block) full-fat cream cheese, COLD and cut into 6 to 8 chunks
Instructions:
Make the cupcakes!
1. Line 24 regular muffin tins with liners, and preheat the oven to 350°F.
2. Over medium heat, bring the stout and butter to a simmer in a saucepan. Add the cocoa powder, then whisk the mixture until it's smooth. Allow it to cool slightly.
3. Whisk together the dry ingredients in a large bowl: flour, sugar, baking soda, and salt.
4. In the bowl of a stand mixer [or with an electric hand mixer], beat the eggs and sour cream until blended. Add the stout-chocolate mixture to the egg mixture, and beat until it's just combined.
5. Add the dry ingredients to the wet, and beat briefly on a low speed. After that, use a rubber spatula to fold the batter until it's totally combined.
6. Fill the cupcake liners about 2/3rds to 3/4ths of the way full, and bake the cupcakes until a toothpick comes out clean, about 17 minutes [mine only took 15 minutes, but oven times vary]. Allow the cupcakes to cool completely on a rack.
Make the Filling + Fill the Cupcakes:
1. Chop the chocolate [or use chocolate chips], and transfer it to a heatproof bowl.
2. In a small saucepan, heat the heavy cream until it's simmering. Then pour the cream over the chopped chocolate. Allow it to sit for a minute, then stir it until it's smooth. Add softened butter and the whiskey, if using, and stir until combined. Allow the ganache to cool until it's thicker but still soft enough to pipe. [You can put it in the fridge to speed up the process, but you will need to stir it every 10 minutes.]
3. While the ganache is cooling, you have two options for preparing the cupcakes for filling: either use a Wilton No. 230 tip to fill them [it is a tip that kind of resembles a bird's beak, used for filling cupcakes], or cut the centers out of the cupcakes and spoon ganache into them, then replace the tops with the cake you cut out of the top. For a more detailed post on filling cupcakes, this post on Annie's Eats is a good one.
4. Fill the cooled cupcakes with the ganache, then prepare them for frosting!
Make the Frosting:
1. Into a small bowl, sift the powdered sugar. In the bowl of a stand mixer, cream the butter, 1 1/2 cups of the powdered sugar. Mix until it's fluffy and thoroughly blended.
2. Next, add more of the powdered sugar along with 3 TBS. of the Irish cream, and mix again until combined. Add the rest of the powdered sugar, the remainder of the Irish cream, and the vanilla extract. Mix until evenly incorporated, scraping down the sides of the bowl as necessary.
3. Finally, turn the mixer up to medium high speed, and then add the cold cream cheese a chunk at a time. Wait about five seconds after each addition so that the mixer can incorporate each. Turn the mixer up to high speed and beat the frosting for about one minute, until it's smooth. Be careful to not over beat.
4. Frost the cupcakes using a piping bag and tips or spread on with a knife. Be sure to use the frosting within 30 minutes or it may become too soft.
Recipe Source: This recipe was given to me by one of my former coworkers, Kelley. I think the chocolate stout cupcake + Irish whiskey ganache recipes are from Smitten Kitchen. I'm not sure where the Bailey's buttercream recipe comes from, so if you know… please tell me!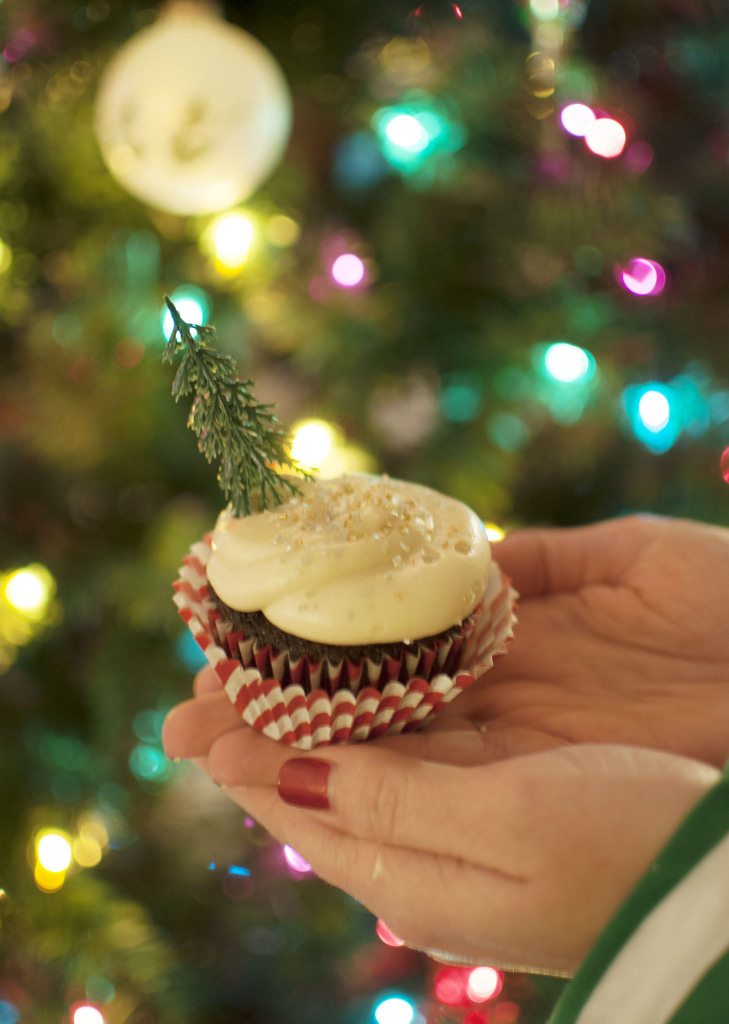 One more photo for good measure: some bokeh from the Christmas tree in the background, plus my friend Katie being an awesome hand model!