Confession: I am one of those people who is usually thinking about pumpkin-flavored everything, changing leaf colors, and fall fashion very early. And by "very early," I mean as in at some point around the middle of July. [This is probably mostly due to the fact that Illinois/Missouri summers are typically humid and disgusting. And the sun isn't exactly my friend. #gingerproblems]
I know it's extremely cliché, and you can mock me if you want, but I don't care. I LOVE fall. Fall is the best season ever, and that's non-negotiable. If you don't like fall, I don't think we can be friends. Like, you can't sit with us! That's how much we can't be friends. Because fall is SRS BZNS. {Five points for you if you got the "you can't sit with us" reference; and ten points if you get the "serious business" reference.}
Anyway. In order to kick off my fall obsession, I decided that I needed to get on my fall baking grind. And what better way to start off my fall baking than with pumpkin? First I made some pumpkin muffins, and they were tasty. I'll definitely share that recipe at some point. But then I made these pumpkin cupcakes with cinnamon cream cheese frosting. And I knew immediately that it would be cruel to not share these with y'all. They were such a hit with coworkers and friends. These cupcakes are so awesome that I was asked to make them for my good friend Cassidy's bachelorette party. Needless to say, the ladies in the party also approved of these.

What? You don't put your cupcakes on your window sill outside?

The cake is moist [sorry for the usage of the word 'moist,' but there's really no other good way to describe good quality cake] and bursting with all of the best fall flavors – nutmeg, cinnamon, ginger, cloves, and allspice. The pumpkin flavor is definitely noticeable, but it's not overwhelming [then again, I love pumpkin so I might be biased]. And the cinnamon cream cheese butter cream frosting just takes everything to the next level.
Even if you're not as opinionated about fall as I am, you should still make these cupcakes. They're awesome. Enough said.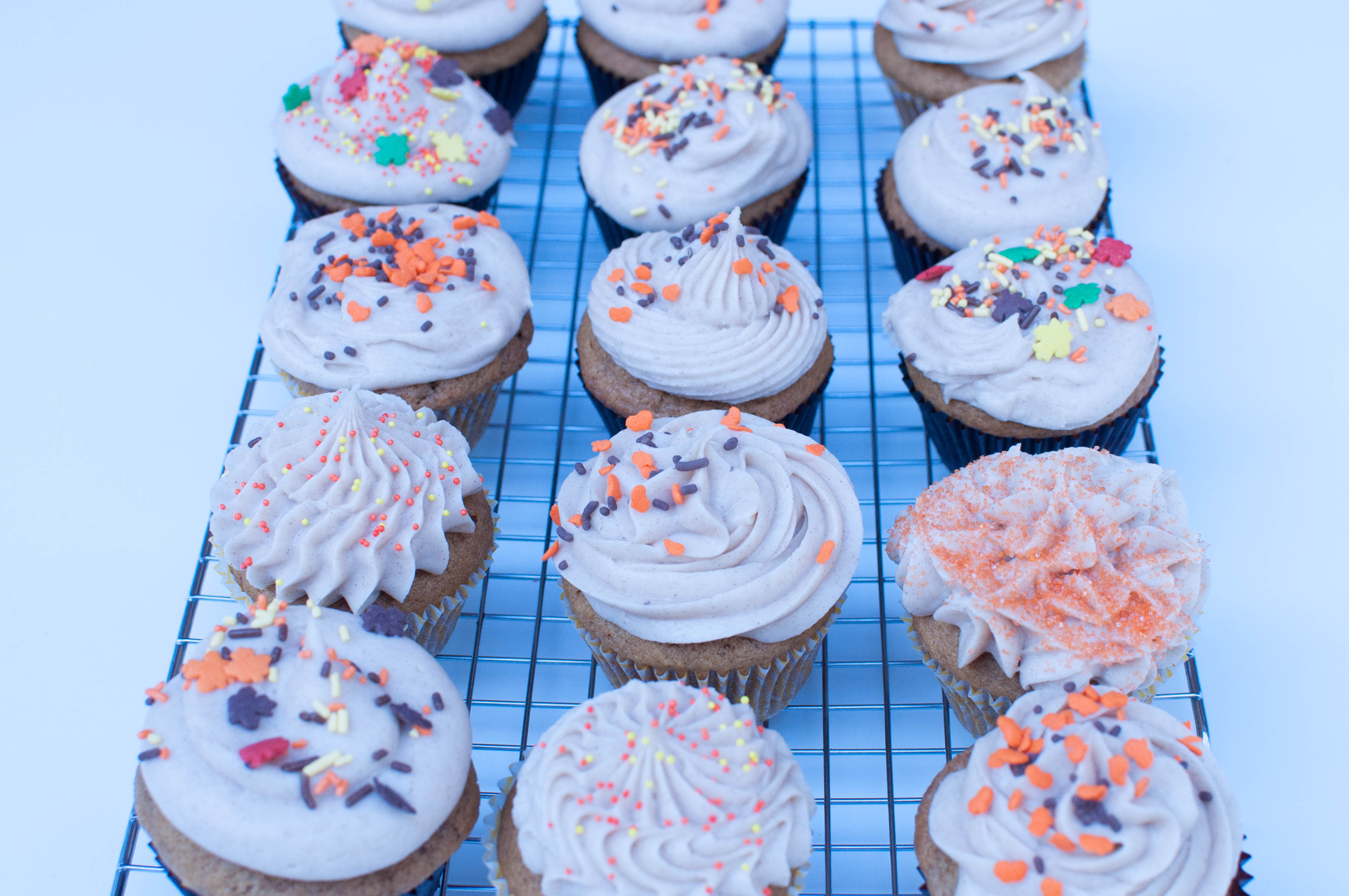 //   //   //   //   //   //   //   //   //   //   //   //   //   //   //   //   //   //   //   //   //   //   //   //   //   //   //    //   //  
Pumpkin Cupcakes with Cinnamon Cream Cheese Frosting
Yield: I got a little over twenty regular sized cupcakes.
Cupcake Ingredients:
– 2 cups all-purpose flour
– 1 tsp. baking soda
– 1 tsp. baking powder
– 1 tsp. coarse salt
– 1 ½ tsp. ground cinnamon
– 1 tsp. ground ginger
– 1/4 tsp. freshly grated nutmeg [I used about 1/4 tsp. of dried, ground nutmeg.]
– 1 tsp. pumpkin pie spice [I got my recipe for pumpkin pie spice from My Baking Addiction. You can buy it from the store, but it's so easy to make.]
– 1 cup packed light-brown sugar
– 1 cup granulated sugar
– 1 cup (2 sticks) unsalted butter, melted and cooled
– 4 large eggs, lightly beaten
– 1 can (15 ounces) pumpkin puree [not pumpkin pie filling]
Cinnamon Cream Cheese Frosting Ingredients:
– 2 (8) ounce packages cream cheese, softened
– 1 stick butter, softened
– 2 lbs. confectioners' sugar [AKA an entire bag of powdered sugar.]
– 1 tbsp. ground cinnamon
– 2 tsp. pure vanilla extract
Make the Cupcakes!
1. Preheat oven to 350 degrees. Line cupcake pans with paper liners and set aside. Whisk together the dry ingredients  [flour, baking soda, baking powder, salt, cinnamon, ginger, nutmeg, and pumpkin pie spice] in a medium bowl. Set aside.
2. In a large bowl or stand mixer [fitted with the paddle attachment], mix in brown sugar, granulated sugar, butter, and eggs. Add the dry ingredients and and mix until smooth. Mix in pumpkin puree until just combined.
3. Fill each cupcake liner with batter about halfway full. Bake until the tops spring back when touched, and a toothpick comes out clean. Mine baked for about twenty minutes, but they may take 20-25 minutes. You may also rotate the pans if necessary. Transfer the cupcakes to a wire rack and let them cool completely.
Make the Cinnamon Cream Cheese Frosting!
1. In the bowl of a stand mixer [or with a hand mixer], beat the butter and cream cheese until light and fluffy.
2. Gradually add in the powdered sugar until it's mixed in completely [keep the mixer on low speed at first unless you like being covered in powdered sugar].
3. Mix in vanilla and cinnamon.
4. Pipe or spread the frosting on the cupcakes. Add pretty fall sprinkles. Do it.
Recipe from Jamie at My Baking Addiction.