I made [and attempted to photograph] these brownies just once in early 2013.
If I had a proper blog up and running back then, I would have written about them immediately. But I didn't have a presentable blog back then, and time has sure gotten away from me.
While I do wish that I could have written about these long ago, I guess nearly a year later is better than never. Right? Right.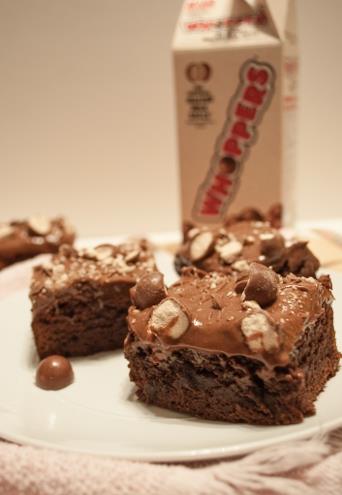 Anyway. I'm not usually one for cake-like brownies. As a general rule, I prefer rich, fudgy brownies. These brownies are the one exception to that rule, though.
I love all things malt. And I obviously love chocolate. So the combination of malt and chocolate is just magical. In fact, I think I'm gonna have to stop writing about these brownies, because now I'm craving them. And this is the type of craving you can't get out of your head.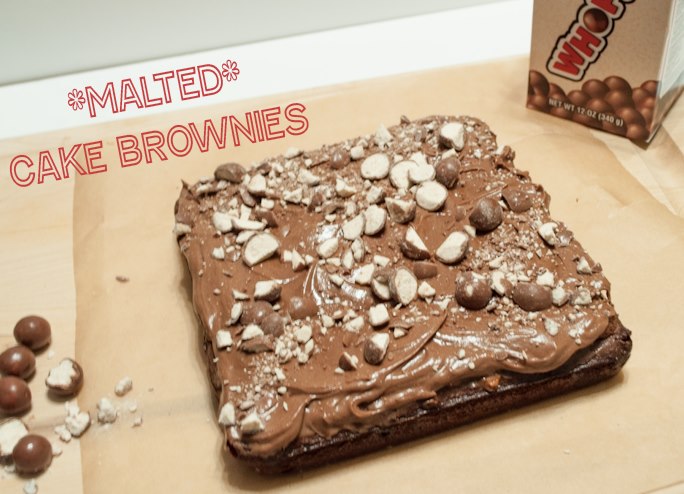 I think I know what I'm baking the moment I return from Nashville to STL. 😀
 //   //   //   //   //   //   //   //   //   //   //   //   //   //   //   //   //   //   //   //   //   //   //   //   //   //   //    //   //  
Malted Milk Chocolate Cake Brownies
Ingredients:
For the malted milk chocolate cake brownies:
– 3/4 cup malted milk powder [I used the standard Carnation brand malted milk powder (all in the drink mix aisle), but you can also use Ovaltine powder.]
– 1 cup light brown sugar
– 1 cup all-purpose flour
– 1/2 cup unsweetened cocoa powder
– 1/4 tsp. kosher salt
– 1/4 tsp. baking powder
– 3 large eggs
– 2 tsp. vanilla extract
– 1/2 cup vegetable oil
– 3/4 cup chopped Whoppers or malted milk balls, divided
For the cocoa cream cheese frosting:
– 1 1/2 cups confectioners' sugar
– 5 Tbsp. unsalted butter, at room temperature
– 1/4 cup unsweetened cocoa powder
– 2 Tbsp. malted milk powder
– 1 tsp. vanilla extract
– pinch of salt
– 5 oz. cream cheese, cold
Make the Brownies!
Preheat oven to 350 degrees F. Grease an 8×8" square baking dish (or 10×6") with baking spray, or line with parchment paper and lightly coat the sides of the pan.
Whisk together the dry ingredients in a medium bowl [malt powder, brown sugar, flour, cocoa powder, salt, and baking powder]. Set aside until ready to use.
In the bowl of a stand mixer [or larger, separate bowl], beat the eggs, vanilla, and oil until combined.
Carefully add the dry ingredients into the wet ingredients and mix until combined and no dry patches are left. Fold in ¼ cup of chopped Whoppers, then pour into the prepared baking pan. Sprinkle the top of the batter with another ¼ cup of the chopped Whoppers. Bake at 350 degrees for about 30 minutes, or until a toothpick inserted in the center comes out with no batter on it. Remove the pan and set it on a wire rack to cool for about 5-10 minutes, then remove the brownies from the pan and set on wire rack until completely cool.
Make the Frosting!
In the bowl of a stand mixer fitted with the paddle attachment [or you can use a hand mixer for this – whatever you do, don't try to mix it with a spoon!], add the butter, confectioners' sugar, cocoa powder, malted milk powder, vanilla, and salt. Mix until thoroughly combined; it will be dry and crumbly at first. Add the cold cream cheese to the crumbly ingredients, and beat on medium speed for about five minutes. Once its color has lightened and it looks smooth, it is done. Be careful to not overbeat or it will become runny.
When the brownies are completely cool, frost with the cocoa cream cheese frosting, and top with the last ¼ cup of chopped Whoppers. Slice 'em up and enjoy!

 
Recipe from the awesome Megan at Take A Megabite.